Sinusitis
If you've ever been diagnosed with chronic sinusitis but nothing seems to bring relief, now may be the time to follow up with an ENT doctor from the Penn Medicine Becker ENT & Allergy Center. Research suggests that 99% of chronic sinusitis diagnosed by non-ENT specialists is incorrect, meaning that you may have been addressing the wrong issue all along. On the other hand, chronic sinusitis can often be diagnosed as allergic rhinitis or migraines, delaying treatment and causing patients to live with excruciating symptoms for longer than necessary.
According to the American Academy of Otolaryngology – Head and Neck Surgery (AAO-HNS), nearly 15 percent of adults in the United States are affected by sinusitis, making it more prevalent that hay fever, bronchitis, asthma or heart disease. Sinusitis accounts for over 10 percent of all primary care antibiotic-related visits, and for more antibiotic prescriptions than nearly any other diagnosis.
Compared to patients without Chronic Rhino-Sinusitis (CRS), patients with CRS have a greater than 35 percent reduction in productivity and on-the-job effectiveness. Patients with CRS report a greater negative impact on their quality of life than patients with chronic back pain, chronic obstructive pulmonary disease (COPD), angina, or congestive heart failure. Also, according to a 2014 survey, over 30 percent of patients with CRS report that their work and leisure activities have been negatively impacted by sinusitis. Other studies have demonstrated increased sleep impairment, increased rates of depression, and increased rates of sexual dysfunction in patients with CRS when compared to patients without CRS.
Sinus Anatomy and Function
Sinuses are air-filled chambers in the central face around the eyes and nose which have a mucous-secreting lining. There are 4 pairs of sinuses – Frontal (above the eyes), Maxillary (below the eyes), Ethmoid (between the eyes), and Sphenoid (all the way in the back) – which produce copious amounts of mucous daily. The mucous drains through small openings, or ostia, into the nasal cavity where it is swept back into the nasopharynx and down into the throat (esophagus) where it is swallowed. Each of the sinuses has a unique drainage pattern; however, the frontal, maxillary and part of the ethmoid (anterior ethmoids) sinuses all drain into a central region knows as the "middle meatus." Blockage or obstruction of this middle meatus area can lead to backup in these 3 sinuses and result in the symptoms of sinusitis. "Is sinusitis contagious?" is a common question that many people have. The answer is that it depends on the underlying cause of the sinusitis. While viral sinusitis can be contagious, bacterial sinusitis is not typically contagious.
Types of Sinusitis
Sinusitis is typically classified as Acute or Chronic based on duration and symptomology. In Acute Rhino-Sinusitis (ARS) – typically referred to as a "sinus infection" – patients experience purulent (discolored) nasal drainage along with nasal obstruction, facial pain, facial pressure, and/or facial fullness for up to 4 weeks. Patients with ARS may also experience cough, fever, fatigue, diminished sense of smell, dental pain and ear fullness – although these symptoms are not required for diagnosis. In Chronic Rhino-Sinusitis (CRS), patients experience nasal obstruction, facial congestion/pressure/fullness, discolored nasal discharge, diminished sense of smell for over 12 weeks. Symptomology alone is insufficient for a diagnosis of CRS, as patients must also be found to have polyps, edema, thick discharge or discolored mucous on objective exam (usually either an in-office nasal endoscopy, or CT imaging). There is, of course, overlap and interplay between these diagnostic groups – patients with ARS may develop long-term symptoms that evolve into CRS, and patients with CRS may experience acute, infectious exacerbations.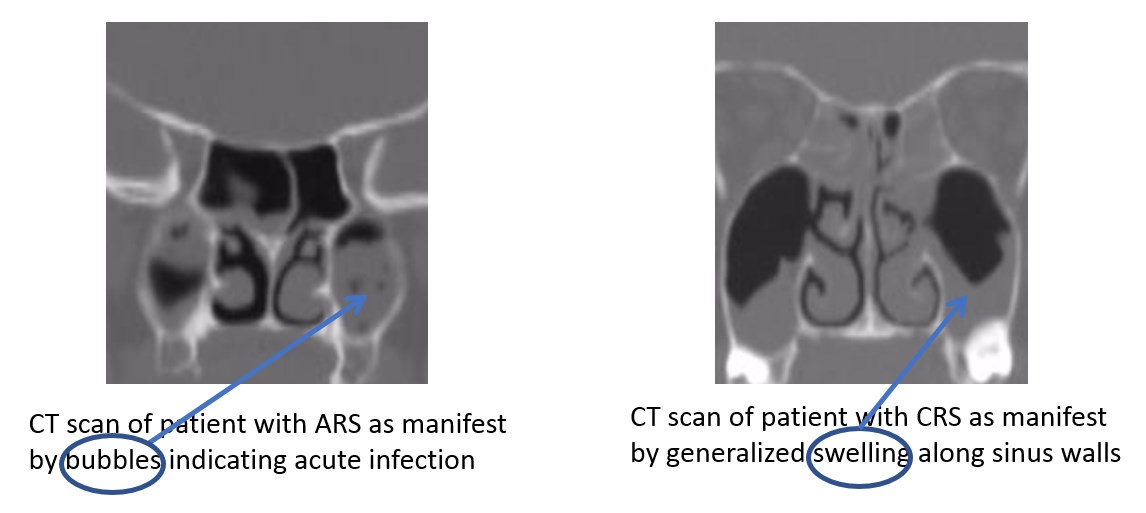 Post Nasal Drip and Cough
It is common for patients to come to their Ear Nose and Throat physician (ENT) with a complaint of a post nasal drip (PND) sometimes associated with congestion and cough. It is sometimes difficult to identify the exact source of this PND; however, that does not mean it cannot be successfully treated. Similarly, it may be difficult to ascertain the exact relationship between PND and cough; however, a methodical and meticulous approach often leads to improvement or resolution of symptoms. After taking a thorough history and physical exam, your ENT physician may suggest a variety of treatment options including trials of prescription nasal sprays (ie-steroids, antihistamines, anticholinergics), oral allergy medications, saline irrigations, and some over-the-counter (OTC) medications such as Guafenesin. Often these treatments are successful. In cases where they are not, other tests – such as in-office Endoscopy, Allergy testing, Sinus CT, Chest XRay – may be ordered or performed to hone in on potential sources.
Nasal Blockage and Congestion
Nasal blockage or obstruction should be distinguished from nasal congestion which is a related and overlapping diagnosis. Nasal congestion is a sensation of "stuffiness" and is often due to swelling of the nasal and sinus lining. Patients with congestion often complain of repeatedly blowing their nose but "nothing comes out." This is distinct from nasal obstruction which is the blockage or impediment of air to flow freely in and out of the nose. Often obstruction is caused by a structural blockage – deviated septum, enlarged turbinates, nasal mass or polyps, enlarged adenoids – and responds best to surgical intervention (ie-septoplasty, turbinate reduction, etc) when medications are ineffective. Congestion; however, is usually responsive to medical intervention. Patients with nasal obstruction may also have congestion and vice-versa. Effective treatment, is dependent on accurate diagnosis.
Sinus Pressure and Headache
When the sinus lining swells, the ostia become blocked, the mucous backs up and symptoms occur. Under these circumstances, patients often complain of facial pressure and sinus headaches. Sinus headaches should be differentiated from other types of headaches (ie-Migraines, Cluster, Tension headaches) and it is important to properly diagnose headache type so that effective and targeted treatment can be prescribed. Treatment of sinus pressure and headaches focuses on finding ways to take down nasal and sinus swelling in order to open blocked sinus ostia and re-establish natural sinus drainage.
Sinus Infections
As described above, sinuses drain through small openings or ostia which can be blocked by swollen lining (exacerbated by viral infection, allergies, etc) or structural components (deviated septum, polyps, scar tissue, etc). When sinuses are blocked, the mucous backs up and serves as a breeding ground for bacteria, sometimes leading to a sinus infection. For most uncomplicated acute sinusitis, treatment may begin with symptomatic therapy such as analgesics (ie-Acetaminophen, Ibuprofen), topical nasal corticosteroids (ie-Fluticasone, budesonide, triamcinolone, etc), and saline nasal irrigation. If symptoms persist or worsen, antibiotics may be prescribed. In some cases, a culture may be taken in the office using a small endoscope and a sinus swab to identify specific bacteria involved in the infection. This can help narrow down the diagnosis and identify the most effective antibiotic for treatment.
Diminished Smell and Taste
It is common for patients with ARS and CRS to complain of a diminished (hyposmia) or missing (anosmia) sense of smell and/or taste. Smell is transmitted via the 1st (Olfactory) Cranial Nerve which is located at the top of the nasal/sinus cavity, and accounts for a large part of taste sensation as well. When the nose and sinus lining swells – as it does in acute and chronic sinusitis – the stream of odorants (substances containing molecules that trigger the smell nerves) – is blocked from reaching the receptors of the Olfactory Nerve, and patients experience a diminished sense of smell and taste. When a patient's sinus condition resolves, the odorants are no longer obstructed and the sense of smell and taste often improves. There are other causes of diminished smell and taste – primary disorders of the olfactory nerve, brain tumors, nasal masses and polyps, viral infection, trauma, etc – each of which has its own treatment algorithm; however, for most patients with ARS and/or CRS, treatment focuses on taking down the inflammation associated with sinusitis.
Why Choose Our Specialists?
Your Sinusitis Evaluation and Consultation
When you meet your ENT doctor, your consultation will begin with a thorough review of your related medical history. It is of great utility for your physician to understand what your sinus-related symptoms are, their duration, association with seasons or other environmental exposures (allergies, daycare, smoking, etc), as well as the full range of treatments that you have tried, for how long you have tried them, and their efficacy. A focused physical exam will be performed in which anatomical clues are sought – deviated septum, swollen or allergic appearing nose and sinus lining, enlarged adenoids or turbinates, masses or polyps – to help identify sources of your sinusitis. Once completed, a detailed treatment plan will be formulated – perhaps involving some medication trials and/or further testing (CT, allergy testing, etc). Follow-up – typically after a few weeks – is imperative as a way to determine the efficacy of treatments and to hone in on a long-term, sustainable solution. Telemedicine consultation available now!
Related Articles
Treatments for Sinusitis
Treatments for sinusitis typically focus on reducing nose and sinus inflammation and keeping the drainage pathways open and properly functioning. Medications commonly recommended include nasal corticosteroids (ie-Fluticasone, Budesonide, Triamcinolone), nasal antihistamines (ie-azelastine, olapatidine), oral antihistamines, and oral anti-leukotrienes (ie-Monteleukast). Each of these medications has advantages, disadvantages, side-effects and complications which your physician will discuss with you. Sometimes, a trial of over-the-counter (OTC) medications such as Guafenesin and nasal saline irrigation (ie-"Neti-pot") is recommended. In acute situations (ie-ARS), patients may be treated with an oral antibiotic. Often endoscopically-guided cultures are taken to help direct the choice of antibiotic. Oral steroids (ie-prednisone) may also be used in the treatment of both acute and chronic sinusitis, although long-term use is typically avoided. Topical decongestants (ie-Oxymetazoline) may also be used for symptom relief in acute situations, although great care must be paid to avoid using these addictive medications for more than a few days (typically 2-3 days at most). Medical treatment is effective in most patients; however, there is a smaller subset of patients where anatomical sources play a large role in the sinusitis, and surgery may be recommended to treat the anatomical abnormalities as part of the overall treatment plan.
Pick one of our 16 convenient locations
for your Sinusitis Treatment