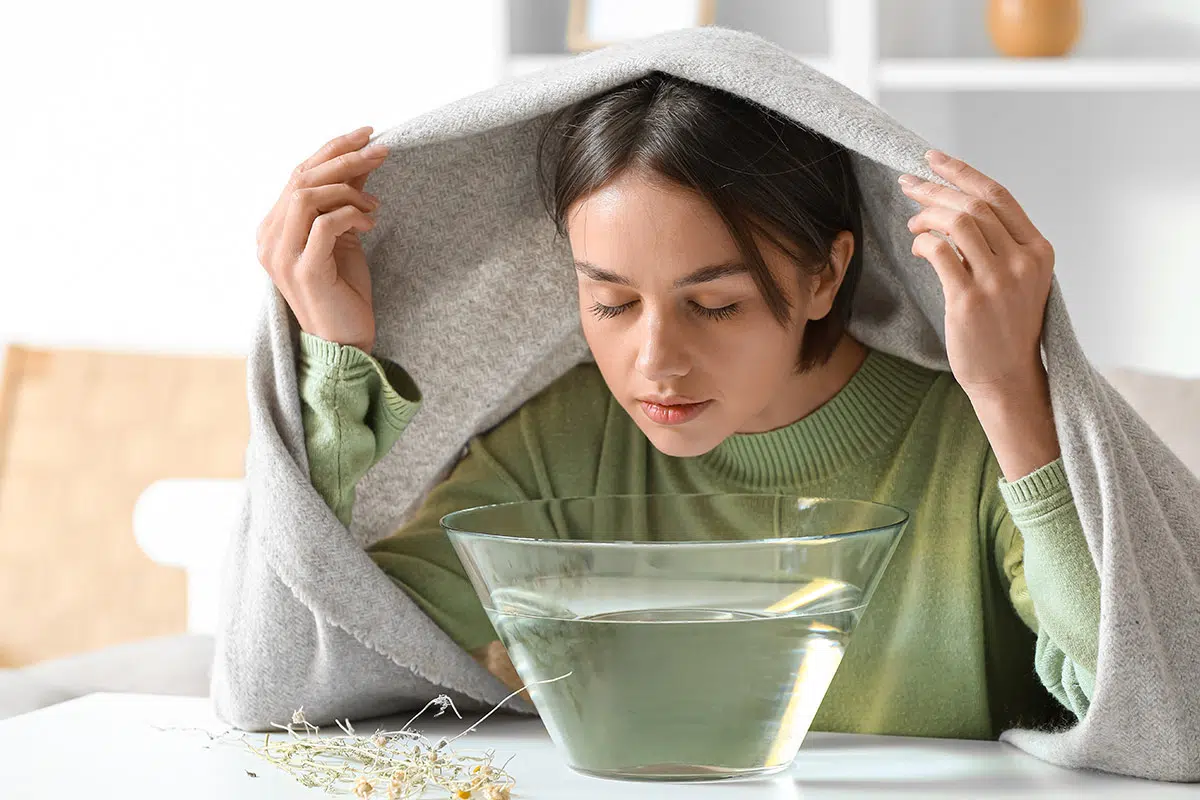 Sinus headaches, frequently a manifestation of sinusitis, can trigger a dull, throbbing pain in the forehead, behind the eyes, or in the cheekbones.
This discomfort, often due to sinus pressure, usually intensifies with sudden head movements or straining. These can include a stuffy nose, a feeling of pressure in the ears, fever, and facial swelling, all of which are common symptoms of a sinus infection.
Sometimes, sinus headaches can signify a more severe sinus disorder, such as a bacterial or fungal infection.
What is a Sinus Headache?
A sinus headache is a type of discomfort that arises due to inflammation and blockage within the sinus cavities, often due to a sinus infection. This bodily reaction to bacterial or viral infections can result in heightened sinus pressure, ultimately leading to a persistent, pulsating headache.
Such pressure may escalate when making abrupt head motions or exerting force, frequently culminating in intense discomfort.
The pain can sometimes even extend to the upper teeth, mimicking a toothache, further complicating the diagnosis. In addition to the pain, individuals suffering from sinus headaches may experience other common symptoms such as nasal congestion, nasal discharge, postnasal drip, and pressure in the ears.
Causes of Sinus Headache
Sinus headaches, a common symptom of sinus disorders, are primarily caused by sinusitis. This condition is characterized by an inflammation or swelling of the tissue lining the sinuses, which are the air-filled cavities within the bones around the nose. Various factors, such as the common cold or flu, can trigger it.
In some cases, sinus headaches can also result from a bacterial sinus infection or a fungal sinus infection, which can cause significant discomfort and require medical attention.
In addition, seasonal allergies and environmental allergies, a common issue for many, can lead to sinus inflammation and pressure, thereby causing a headache.
Structural problems within the sinuses, such as nasal polyps or a deviated septum, can also contribute to the development of sinus headaches by obstructing the sinus passages and preventing proper drainage.
Home Remedies for Sinus Headaches
Numerous home remedies can provide relief from sinus headaches. These simple, cost-effective methods can be easily incorporated into your daily routine.
Steam Inhalation
One of the most common types of home treatments for sinus pain relief is steam inhalation, a form of steam therapy that has been used for centuries to alleviate sinus congestion and pain.
This natural remedy works by introducing warm, moist air into the nasal passages, helping to soothe inflamed sinuses and promoting sinus relief.
The heat from the steam helps to expand the blood vessels in the nasal cavity, promoting better blood circulation and allowing white blood cells and other essential blood cells to reach the affected areas more efficiently.
Nasal Irrigation (Neti Pot)
Nasal irrigation is an effective remedy for relief from sinus pain and is often performed using a device known as a neti pot.
This ancient technique, originating from Ayurvedic medicine, involves the process of flushing out the nasal passages, which are air-filled cavities within the structure of the nose.
The irrigation process uses a saline solution, a simple yet effective salt and sterile water mixture. This saline solution acts as a natural decongestant, helping clear mucus buildup and reduce inflammation within the sinus cavities.
The process of nasal irrigation not only aids in relieving sinus pressure symptoms but also helps maintain the health of the mucous membranes lining the nasal passages.
Hot Compress
Applying a hot compress to the affected area may relieve sinus headache pain. The heat from the compress helps to reduce inflammation and relieve pressure in the sinus cavities.
Simply soak a cloth in hot water, wring out the excess, and place it over your forehead or cheeks for about 10 minutes. Repeat this process several times a day for optimal results.
Herbal Teas and Supplements
Certain herbal teas and supplements can also help in relieving sinus headaches. For instance, ginger tea is known for its anti-inflammatory response and can help reduce sinus pressure and congestion. Bromelain, a type of enzyme found in pineapples, can help reduce swelling in the nasal passages.
However, you should always consult a healthcare professional before starting any new supplement regimen.
Salt Water Gargle
Gargling with salt water can help soothe a sore throat that often accompanies sinus headaches. It can also help clear nasal congestion by thinning out mucus and decreasing inflammation in the throat.
Mix half a teaspoon of salt in a glass of warm water to prepare a saltwater gargle. Gargle the solution for a few seconds and then spit it out. Repeat this process several times a day.
Use a Humidifier
Dry air can worsen sinus headaches by causing further irritation and inflammation in the nasal passages. Using a humidifier can help add moisture to the air and alleviate these symptoms.
It's essential to keep the humidifier clean to prevent the growth of mold and bacteria, which can exacerbate sinus problems.
Clean the Nasal Passages with Saline Spray or Drops
Saline nasal sprays or drops can also be effective in relieving sinus headaches. These products moisturize the nasal passages and thin out mucus, allowing it to drain more effectively.
This can help reduce sinus pressure and relieve facial pain. Counter nasal decongestant sprays or drops can be purchased over the counter at most pharmacies.
Avoid Alcohol and Tobacco Use
Alcohol and tobacco can aggravate sinus headaches by causing inflammation in the sinus passages. Alcohol can lead to dehydration, thickening the mucus and making it harder to drain.
Whether firsthand or secondhand, tobacco smoke irritates the nasal passages and can worsen sinus symptoms. Avoiding these substances can help prevent sinus headaches and promote overall sinus health.
Diet Changes to Help Relieve Sinus Headaches
Dietary changes can also significantly impact the frequency and intensity of sinus headaches. Certain foods and drinks can contribute to inflammation and mucus production, while others can help reduce these issues.
Increase Fluid Intake
Staying well-hydrated is crucial for relieving sinus headaches.
Adequate fluid intake helps thin the mucus, allowing it to drain effectively and reducing sinus pressure. Drinking plenty of water, clear broths, and herbal teas can help maintain proper hydration.
Increase Vitamin C and D Intake
Vitamin C is a powerful antioxidant that boosts the immune system and helps fight off sinus infections. Citrus fruits, bell peppers, strawberries, and kiwi are rich in vitamin C.
Similarly, Vitamin D has anti-inflammatory properties. It can be found in foods like fatty fish, fortified dairy products, and egg yolks. You can also get Vitamin D from sunlight.
Decrease Dairy Consumption
Dairy products can increase mucus production in some individuals, worsening sinus congestion. If you notice that your sinus headaches worsen after consuming dairy, try reducing your intake to see if your symptoms improve.
Ask an ENT Expert
If home remedies and lifestyle changes don't relieve sinus headaches, it may be time to consult an ENT specialist. They can provide a thorough evaluation, recommend appropriate treatments, and guide you on preventing sinus headaches in the future.
At Penn Medicine Becker ENT & Allergy, our experts are ready to help you relieve your sinus headaches. We have a clinic in Freehold, New Jersey, serving the areas of West Freehold, Millhurst, Smithburg, Manalapan Township, and Siloam. Contact us today and schedule a consultation.