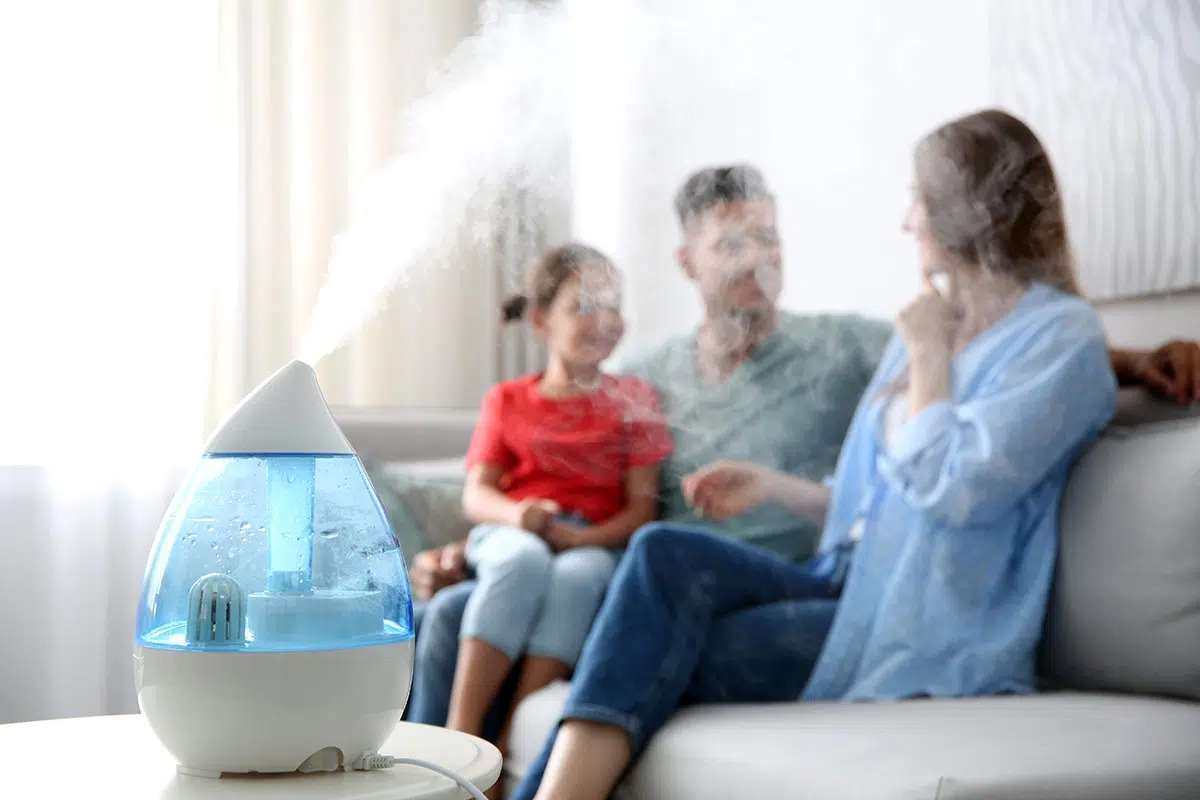 Allergies, whether seasonal or year-round, can be a significant source of discomfort, impacting the daily activities and overall quality of life for many individuals. Allergy sufferers in Philadelphia can experience a wide range of symptoms, from mild annoyances to severe reactions that can disrupt their routine.
One common question is whether humidifiers can help alleviate these allergy symptoms. To answer this question, it's essential to understand the relationship between humidity and allergies and how humidifiers work.
Humidifiers can indeed be a game-changer for allergy sufferers, especially during the dry winter months. By adding extra moisture to the indoor environment, humidifiers can alleviate a wide range of allergy symptoms, providing quick relief for conditions like dry skin, stuffy nose, scratchy throat, and irritated nasal passages.
This can be particularly beneficial for people with allergies to common household allergens like dust mites, as the added moisture can help to keep nasal and sinus cavities moist, reducing the irritation caused by these unwanted allergens.
The Relationship Between Humidity and Allergies
Humidity, the level of water vapor in the air, significantly impacts indoor comfort, especially for allergy sufferers. Optimum humidity levels (40-50%) can alleviate allergy symptoms like sinus inflammation by moisturizing nasal tissues and sinus cavities, providing relief from a congested nose and dry throat.
High levels of humidity, which can happen more in hot regions, can encourage the proliferation of allergens such as mold spores and dust mites, making allergies worse. Therefore, maintaining an ideal humidity level is crucial for managing allergies, keeping indoor allergen levels balanced, and ensuring a comfortable living space during allergy season.
Humidity and Allergy Issues in Philadelphia
During the warmer months, Philadelphia can experience high humidity levels. The high humidity can provide a breeding ground for mold and dust mites. However, the higher humidity might be good news for people with pollen allergies, as the pollen tends to stay closer to the ground and is less likely to be inhaled.
On the other hand, during the colder months, indoor environments in Philadelphia can become very dry due to heating systems, leading to irritated nasal passages and worsening allergy symptoms. Using a humidifier for allergy symptoms at home during this timeframe can be beneficial for relieving symptoms.
Can Humidifiers Alleviate Allergy Symptoms?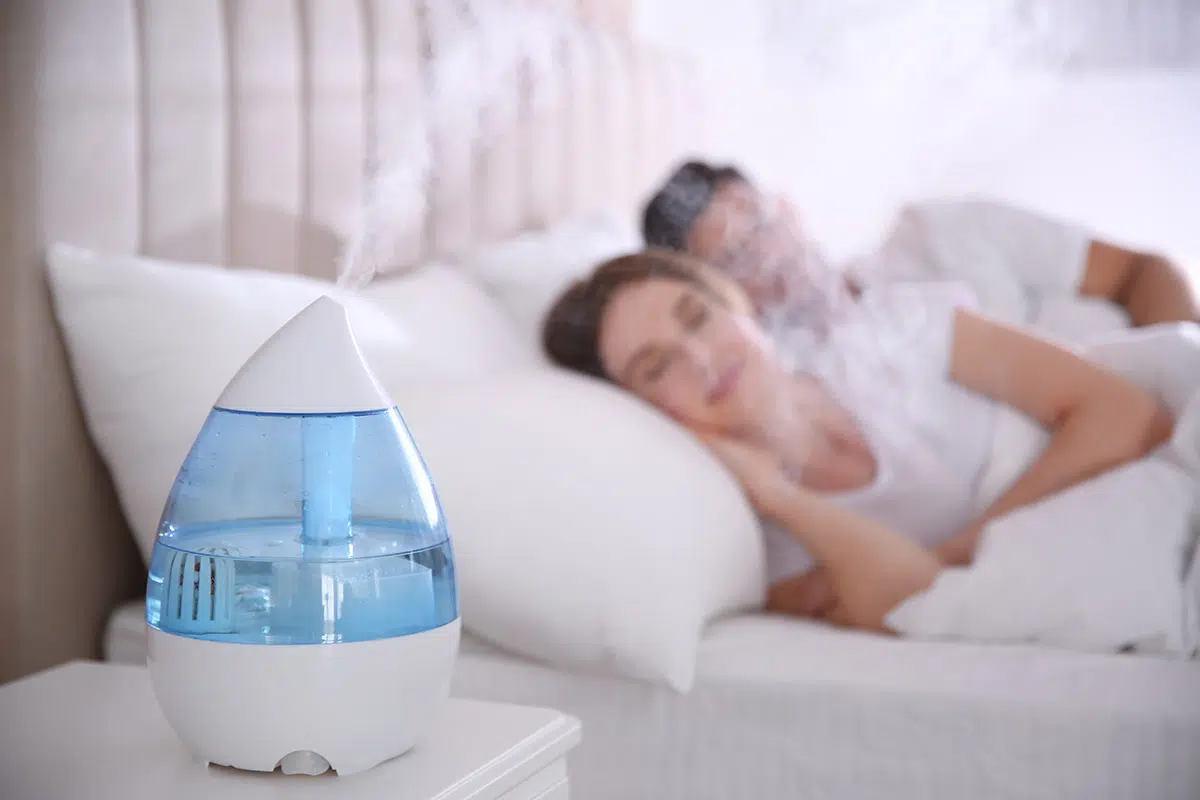 Yes, humidifiers can help alleviate allergy symptoms by maintaining an optimal humidity level. By adding moisture to the air, humidifiers can make the air more comfortable, reducing sinus inflammation and other symptoms. However, humidifiers provide short-term relief and should be part of a comprehensive allergy management plan.
Understanding Humidifiers and Their Benefits
There are several types of humidifiers available, each with its own unique benefits. For instance, warm mist humidifiers heat water into soothing steam for colder climates. On the other hand, cool mist humidifiers are suitable for larger spaces and use fans to disperse cool mist, making them versatile choices. Evaporative humidifiers circulate humidity, air washer humidifiers purify and humidify, ultrasonic humidifiers use vibrations to create moisture, and steam vapor humidifiers release steam.
Maintaining 40-50% humidity can alleviate allergy symptoms like dry skin, stuffy nose, and scratchy throat, and reduce sinus inflammation. Regular cleaning of humidifiers is crucial to prevent bacterial and mold growth, potentially exacerbating allergies.
Understanding Dehumidifiers and Their Benefits
Dehumidifiers work in the opposite way of humidifiers, reducing the level of humidity in the air. This can be particularly beneficial in high-humidity environments or during the warmer months in Philadelphia, when high humidity can encourage the growth of allergens like mold and dust mites.
By maintaining an acceptable humidity level, typically below 50%, dehumidifiers can help control these allergens and reduce allergy symptoms.
This proactive approach not only helps control allergen proliferation but also contributes to a more comfortable and healthful living space.
Dehumidifiers may be particularly beneficial for those suffering from dust allergies. This study tested two groups; one set of rooms with dehumidifiers and one set of rooms without them. In the group with dehumidifiers, there were significantly fewer dust particles present in the mattresses tested versus the other group.
Understanding Air Purifiers and Their Benefits
Air purifiers work by filtering and cleaning the air, removing airborne particles such as dust, pollen, and pet dander, which can trigger allergies.
Different types of air purifiers offer various benefits. For instance, some use a HEPA (High-Efficiency Particulate Air) filter, which can trap 99.97% of particles that are 0.3 microns or larger. Others use activated carbon filters to remove odors and chemical fumes. Some air purifiers also have a UV-C light, which can kill bacteria, viruses, and mold spores.
By improving indoor air quality, air purifiers can help alleviate allergy symptoms, providing relief. This can be extremely helpful for those suffering from respiratory conditions or chronic illnesses. However, like humidifiers and dehumidifiers, air purifiers are not a standalone solution for allergies and should also be part of an allergy management plan.
Humidifier vs. Dehumidifier vs. Air Purifier: What's Better for Allergies?
The choice between a humidifier, dehumidifier, and air purifier for allergies depends on the specific allergens and symptoms you're dealing with, as well as the climate and humidity levels in your environment.
If the dry climate is contributing to your allergy symptoms, a humidifier can make a difference. It adds moisture to the air, helping to alleviate issues like dry throat, itchy skin, and irritated nasal passages. However, it's vital to strike the right balance, as excessive humidity can promote mold and dust mite growth, potentially exacerbating allergies. So, a humidifier is ideal when combating dryness-related symptoms.
For mold, dust mites, or other allergens that thrive in damp conditions, a dehumidifier is your ally. It reduces excess moisture in the air, curbing the growth of these allergens. Dehumidifiers are especially valuable in humid climates or during wet seasons, as they can help create an environment less conducive to allergen proliferation.
An air purifier can be beneficial in any environment, as it works by filtering and cleaning the air, removing airborne particles such as dust, pollen, and pet dander, which can trigger allergies. It can also help improve indoor air quality, providing relief for allergy sufferers.
When Do I Need To See an Allergist in Philadelphia?
If your allergy symptoms are affecting your daily activities or quality of life, or if they're not well-controlled despite using over-the-counter medications or devices like humidifiers, dehumidifiers, or air purifiers, it's recommended to seek professional help. The team at Penn Medicine Becker ENT & Allergy provides convenient access to expert care for allergy sufferers in Philadelphia and surrounding towns like Bryn Mawr, Conshohocken, Jenkintown, Kensington, Ardmore, Havertown, and Media. Contact us to schedule your allergy consultation today.