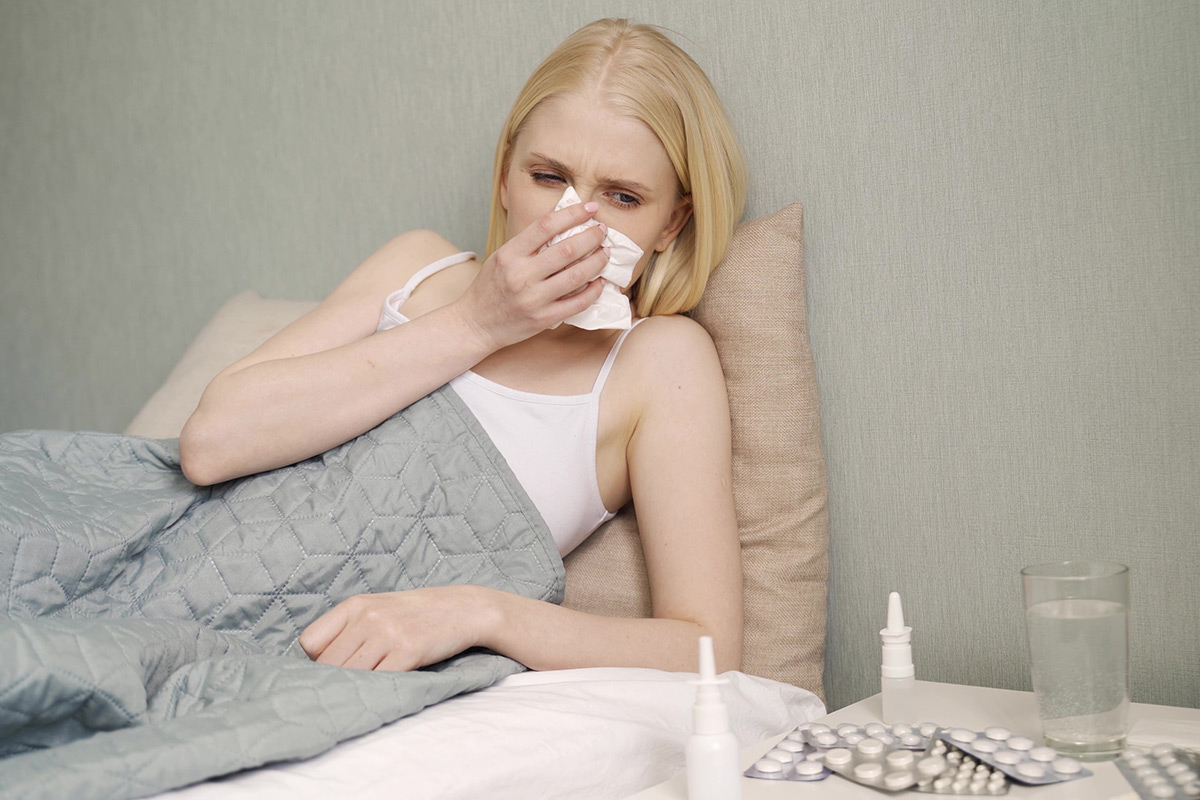 Allergies, whether they are seasonal allergies, food allergies, or common allergies like dust mite or pet allergies, can be more than just a minor inconvenience. They often seem to intensify during the nighttime hours, disrupting not just sleep but also the overall quality of life.
This worsening of allergies at night, often referred to as nighttime allergies, is a common phenomenon experienced by many allergy sufferers. It can lead to a range of nighttime allergy symptoms, from a stuffy nose and itchy skin to more severe reactions like respiratory allergies.
Understanding Allergies and Their Triggers
Allergies are a common health issue that occurs when the body's immune system reacts to a foreign substance (an allergen) as if it were a threat. This allergic sensitization can trigger a variety of symptoms, which can range from mild inconveniences, such as sneezing or itching, to severe and potentially life-threatening reactions, such as anaphylaxis.
The severity and type of allergy symptoms can vary greatly depending on the individual's immune response and the type of allergen involved. There are numerous types of allergies, including dust mite allergies, pet allergies, pollen allergies, mold allergies, and cockroach allergies.
Common Allergens Responsible for Nighttime Worsening
Dust Mites
Dust mites, microscopic creatures that thrive in house dust, are a common trigger for allergies. These tiny organisms are among the most prevalent indoor allergens, often causing allergy sufferers to experience worse allergies at night.
The allergen content of dust mites is found in their waste and dead skin cells, which easily become airborne particles, contributing to the accumulation of allergens in your home. This is especially problematic during the nighttime hours when their activity increases, leading to an escalation in allergy flare-ups.
Pet Dander
Pet dander, which is skin flakes shed by animals, is a common allergen that can trigger allergic reactions in people with pet allergies. These microscopic particles, often invisible to the naked eye, are produced by our beloved furry friends, such as cats, dogs, or other pets.
Pet dander allergy symptoms can range from mild to severe and can include a runny nose, itchy eyes, and even respiratory allergies, such as difficulty breathing. These symptoms can become particularly pronounced during the nighttime hours, leading to poor sleep quality and even sleep deprivation.
Pollen
Pollen, a common outdoor allergen, can easily infiltrate your home, making it a significant contributor to nighttime allergies. It's not uncommon for pollen particles to cling to your skin, hair, or fabrics, only to be released later within the confines of your home. Pollen levels can often be higher at night, especially during pollen season, when certain types of pollen are released after dusk. This can result in symptoms such as post-nasal drip, sneezing, coughing, and more.
Mold
Mold spores, a common culprit in indoor and outdoor allergies, can be present in various environments and are common allergy triggers amongst susceptible individuals. These microscopic organisms thrive in damp environments, such as bathrooms with mold or humid basements, and can be particularly problematic at night when humidity levels can rise.
This increase in humidity can lead to a higher allergen content in the air, causing an escalation in allergy symptoms for those with mold allergies. They can also accumulate on various surfaces, including bedroom furniture and upholstered items, contributing to allergen exposure in your daily life.
Cockroaches
Cockroaches are not just a nuisance but also a significant source of allergens. Cockroach allergens are found in their droppings, saliva, and shedded skin cells, which can trigger allergic reactions in some individuals. These reactions can range from mild symptoms such as a runny or itchy nose to more severe ones like aggravated asthma symptoms. The allergens can also settle on bedroom surfaces, including bedroom furniture and bed linens, further contributing to the problem.
Nighttime Allergy Symptoms
Nighttime allergies can cause a variety of symptoms that can interfere with sleep. These can include nasal congestion, sneezing, itchy or watery eyes, coughing, and difficulty breathing. In some cases, nighttime allergies can also lead to sleep disorders such as insomnia or sleep apnea.
Strategies for Reducing Nighttime Allergies
Creating an Allergy-Friendly Bedroom
Creating an environment that is less conducive to allergens is crucial to managing nighttime allergies and reducing the uncomfortable symptoms that can disrupt your sleep. This process involves several strategies that can significantly decrease the accumulation of allergens in your bedroom, a common trigger for allergy flare-ups.
Using Air Purifiers and Humidifiers
Air purifiers can be a great addition to your allergy-fighting arsenal. They work by filtering the air in your room, removing allergens such as dust mites, pet dander, and pollen. This can significantly reduce the concentration of allergens in your environment, helping to alleviate your symptoms.
Humidifiers, on the other hand, add moisture to the air. This can be particularly helpful in dry climates or during winter when heating systems can dry out the air in your home. Moist air can help to soothe irritated nasal passages and throats, providing some relief from allergy symptoms.
Avoid Sleeping with Your Pets
As much as we love our furry friends, sleeping with them can worsen your allergy symptoms. Pets, especially cats and dogs, can carry a host of allergens in their fur, including pollen, mold, and dust mites. Not to mention, they also produce dander, another common allergen. To reduce your exposure to these allergens, it's best to keep pets out of the bedroom, especially at night.
Antihistamines and Decongestants
Over-the-counter antihistamines and decongestants can help reduce allergy symptoms. Antihistamines work by blocking the action of histamine, a chemical your body releases during an allergic reaction that causes symptoms like itching, sneezing, and a runny nose. Decongestants help shrink swollen nasal tissues, relieving nasal congestion.
Nasal Sprays and Eye Drops
Nasal sprays and eye drops can also help to combat nighttime allergies. Nasal sprays can help to reduce inflammation and clear nasal passages, making it easier to breathe. Eye drops can help to alleviate itchy and watery eyes, which are common symptoms of allergies.
Lifestyle Adjustments for Better Sleep
In addition to these strategies, certain lifestyle adjustments can help improve your sleep quality and reduce nighttime allergy symptoms. Regular exercise, a healthy diet, a shower before bed to remove allergens, and good sleep hygiene can improve sleep. Limiting exposure to screens before bedtime, maintaining a regular sleep schedule, and ensuring your bedroom is cool, quiet, and dark, can also help.
Consulting an Allergist or Immunologist
If your symptoms persist despite your best efforts, it may be time to consult an allergist or immunologist. They offer personalized treatment plans and might suggest immunotherapy (allergy shots) in some cases.
At Penn Medicine Becker ENT & Allergy, we have a team of expert allergists ready to help you manage your nighttime allergies. We serve several areas near our location in Monroe, NJ, including East Brunswick, Old Bridge, Spring Valley, Roosevelt, New Brunswick, Milltown, Marlboro, Sayreville, Spotswood, and Matawan. Don't let your allergies keep you up at night. Contact us today to schedule a consultation.