Having a regular sleeping pattern is essential for living a full and healthy life. Disturbed sleep can lead to daytime fatigue and difficulty concentrating. One of the most common causes of disturbed sleep patterns is Sleep Apnea. Up to 12 million Americans suffer from Obstructive Sleep Apnea. OSA means that a physical obstruction is causing the airway to become blocked during sleeping, although the sufferer will be trying to breathe normally. Snoring is a common symptom of Obstructive Sleep Apnea.
The apnea pauses in breathing, can last for seconds or minutes, and can occur as often as 30-60 times an hour. The sleeper may be unaware of the problem, but in many instances will suffer significant fatigue over time. People who witness a person suffering from sleep apnea can find it frightening. Sufferers are sometimes treated using a CPAP (continuous positive airway pressure) device. This is an air-supplying mask worn during sleep. If you don't like the thought of sleeping with a mask on, here are 5 CPAP alternatives.
Lifestyle Adjustments
Excess weight, and alcohol consumption, have all been shown to be contributing factors to sleep apnea. Avoid drinking alcohol before you go to sleep, stick to guideline amounts, and adapt a healthier lifestyle. These can all help to reduce the severity of sleep apnea attacks, but in themselves are unlikely to provide a cure.
Oral Appliances
You may have heard of oral appliances being used as a treatment for snoring. As snoring can be a symptom of sleep apnea, these appliances can also be used as a sleep apnea treatment. The mouth-guard-like device is worn during sleep and works by pushing the lower mandible forward. This helps to prevent the collapse of soft oral tissues which can then lead to airway obstruction. Oral appliance therapy is widely available, but should only be used under the supervision of a health care specialist. Poor-fitting can lead to unpleasant side effects such as jaw, face, and dental pain, excessive saliva production, and gum irritation.
Mandibular advancement devices are oral devices used to treat sleep disorders, most commonly sleep apnea. This type of mouth device works by pushing the lower jaw forward, keeping airways open while sleeping. Mandibular advancement devices have been proven to be effective in treating mild to moderate cases of sleep apnea. For those with more severe cases, a major risk factor is that it can cause further airway obstruction if not adjusted properly. As a result, this type of oral appliance therapy should only be done under the supervision and guidance of a qualified healthcare professional.
Palate Procedures
An unusually soft palate can lead to sleep apnea. By stiffening the palate, patients can achieve a better night's sleep and reduce snoring. This is performed via different methods. Two common methods for palate stiffening are office procedures known as the Pillar Procedure and RadioFrequency Ablation of the Palate. These simple procedures are performed under local anesthetic, usually in the office, during which the palate is scarred. This makes the palate more rigid and reduces the floppiness that can cause problems. The procedures can be highly effective, and each takes around 20 minutes to perform.
Tongue Base Reduction
Some people have a larger-than-usual tongue base. This can fall back during sleep, causing an obstruction of the airways called the hypopharynx. This, in turn, can lead to the debilitating effects of sleep apnea. Radio Frequency Ablation can be used to reduce the base of the tongue, without the side effects of more invasive surgical procedures such as bleeding, and difficulty in swallowing.
Tonsillectomy and Oropharyngeal Surgery
Enlarged tonsils, or uvula, as well as an elongated palate, may contribute to sleep apnea. When less invasive procedures do not work, surgical procedures may be effective. These procedures can range from simple tonsillectomy to more involved procedures known as Uvula-Palato-Pharyngo-Plasty (or UPPP).
Sleep apnea can have a disruptive effect on your quality of life, and may lead to serious health issues if untreated. For this reason, patients who suspect sleep apnea should be evaluated and treated. Treatment options vary and should be discussed with a physician.
Limitations of CPAP therapy
While CPAP (Continuous Positive Airway Pressure) machines have proven effective for many individuals, they do come with some limitations that can impact the overall experience and effectiveness of treatment.
One common limitation is related to the type of sleep apnea. CPAP therapy is primarily effective for obstructive sleep apnea (OSA), where the upper airway becomes blocked, leading to pauses in breathing during sleep. However, it may not be the most suitable option for central sleep apnea (CSA), a less common form where the brain fails to send the proper signals to control breathing during sleep. In such cases, alternative treatments should be explored with the guidance of sleep specialists.
Additionally, while CPAP machines can alleviate sleep apnea symptoms and improve the quality of sleep for many, some individuals may find the equipment cumbersome or uncomfortable to use regularly. Struggling with mask fitting or experiencing air leaks can disrupt sleep quality and lead to inadequate treatment adherence. Excess tissue in the throat or nasal passages can also affect the effectiveness of CPAP therapy, as it may hinder the proper delivery of pressurized air. In such instances, individuals may need to consider alternative, more tailored solutions to address their specific needs and achieve the most effective treatment outcomes for sleep apnea.
Factors to consider when choosing an alternative to CPAP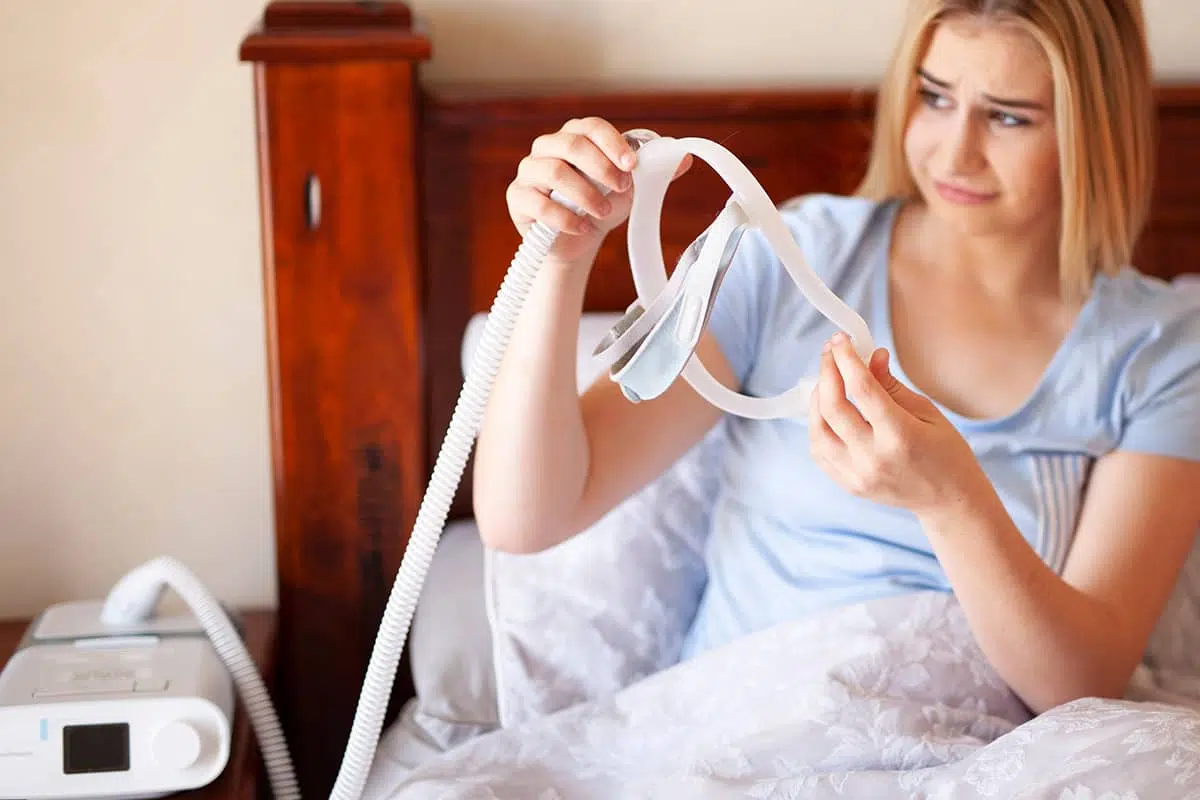 While CPAP (Continuous Positive Airway Pressure) is a common treatment for sleep apnea, it's not always the best fit for everyone. Thankfully, there are alternative treatments worth considering that can provide effective relief from sleep apnea symptoms and improve overall sleep quality.
One vital factor to consider is the type and severity of sleep apnea. While CPAP is a common treatment for moderate-to-severe sleep apnea, other alternatives may be more suitable for certain individuals. For those with mild sleep apnea or positional sleep apnea (occurring when lying in specific positions), weight loss might be an effective approach. Shedding excess pounds can reduce pressure on the airway, leading to improved breathing patterns during sleep. Additionally, oral pressure therapy, which involves wearing a special mouthpiece, may be a viable alternative for some individuals. This device helps keep the airway open by adjusting the position of the jaw, allowing for better airflow without the need for a mask.
Another factor to consider is the comfort and ease of use. For some individuals, CPAP treatment may be challenging due to mask leaks or discomfort during sleep. In such cases, alternative treatments like upper airway nerve stimulation can be explored. This innovative treatment involves a small device implanted under the skin that stimulates the nerves controlling the upper airway, keeping it open during sleep. It's crucial to discuss these alternative options with a sleep specialist to find the best match for individual needs and lifestyles. By carefully considering these factors and exploring alternative treatments, individuals with sleep apnea can discover a more tailored and effective solution to improve their sleep quality and overall well-being.
Conclusion
In conclusion, CPAP therapy is the most common treatment for those with moderate-to-severe sleep apnea, but there are other effective alternatives worth considering. It's important to discuss these options with a healthcare provider in order to find the best match for individual needs and lifestyles. Alternative treatments such as weight loss, oral pressure therapy, and upper airway nerve stimulation can provide relief from symptoms of sleep apnea and improve the quality of restorative sleep. By exploring these different alternatives, people with sleep apnea can find a more tailored solution that fits their health condition and helps them get the most out of their treatment.