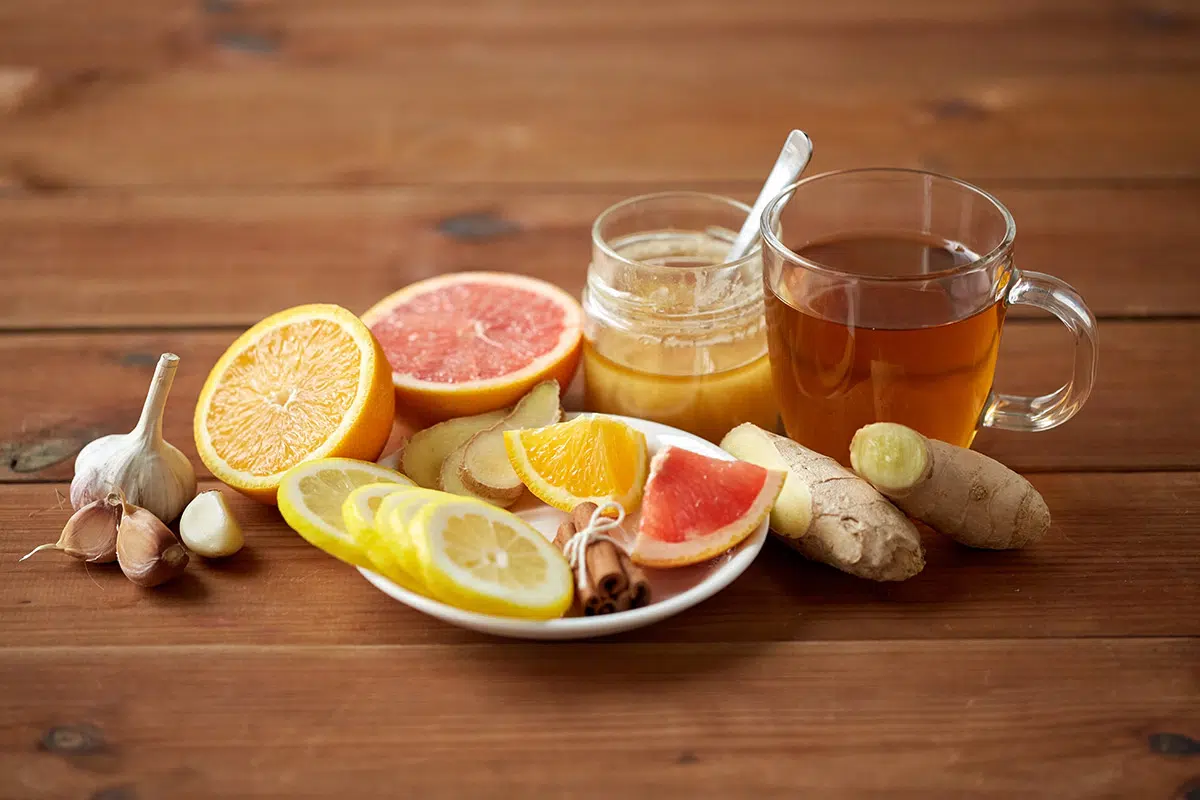 Allergies, a prevalent health concern, impact millions of people globally, from North America to the farthest reaches of the world. These reactions are the body's exaggerated response to substances that are generally harmless, such as pollen, dust mites, and certain foods.
These substances, known as allergens, can be found both indoors and outdoors, and exposure to them can trigger a variety of allergy symptoms ranging from a runny or stuffy nose, itchy nose, and postnasal drip, to more severe reactions like anaphylactic reactions.
Overview of Home Remedies
Home remedies for allergies, including seasonal allergies, encompass a wide range of natural solutions that can help alleviate common symptoms and improve overall health. These remedies often involve ingredients that are readily available in your home or can be easily obtained from a local grocery store.
They can be used as standalone treatments or in conjunction with traditional medical therapies such as allergy shots and allergy medications. Natural allergy remedies can provide relief for a variety of allergy types, including nasal allergies, pet allergies, and respiratory allergies.
They can be particularly beneficial during allergy seasons when pollen counts are high and exposure to allergens such as tree pollen, grass pollen, and bee pollen are increased.
Benefits of Natural Solutions
Natural solutions for allergies, including a variety of natural allergy remedies, offer several advantages that make them an appealing remedy for allergies. First and foremost, they are generally safe, with fewer side effects compared to prescription allergy medications.
This is particularly beneficial for individuals with severe allergies who may be sensitive to the side effects of conventional allergy medicine. Natural solutions can be tailored to the individual's specific needs and preferences, making them a versatile option. Whether you're dealing with seasonal allergies, pet allergies, or respiratory allergies, there's likely a natural remedy that can be customized to your situation.
For instance, if you're seeking seasonal allergy relief, remedies involving local bee pollen, which can help desensitize your body to local pollen counts, might be particularly effective. Natural solutions can help strengthen the immune system, a crucial aspect of managing allergies. By bolstering immune health, these remedies can help your body better respond to exposure to allergens, reducing the severity of your allergy symptoms.
How Allergies Affect the Body
When an individual with allergies encounters an allergen, their immune system goes into overdrive, producing antibodies to combat what it perceives as a threat. This could be anything from common allergens like pollen, dust mites, or pet dander to specific food allergies. The immune system's response triggers a cascade of reactions that result in a variety of allergy symptoms. These symptoms can range from mild to severe.
In the case of nasal allergies, allergens can directly irritate the nasal cavities, resulting in symptoms such as postnasal drip. To compound the issue, the body releases histamine, a compound involved in local immune responses, which can worsen these symptoms. Increased histamine levels trigger inflammation, leading to itchiness in the nose and eyes, frequent coughing, and other typical allergy symptoms.
Natural Remedies for Allergic Reactions
There are several natural remedies that can help manage allergic reactions. Here are a few examples:
Honey: Nature's Allergy Fighter
Honey, especially local raw honey, is often touted as a natural remedy for allergies. The theory behind this is that local honey, which is made by bees that collect nectar from local plants, can help desensitize the body to pollen. This is particularly beneficial for those suffering from seasonal allergies, as exposure to pollen is one of the most common allergy triggers.
Steam Therapy for Sinus Congestion
Inhaling steam can help clear nasal passages and relieve sinus congestion, a common symptom of allergies. Adding essential oils such as eucalyptus or peppermint to the steam can further enhance its therapeutic effects.
Herbal Infusions for Allergy Relief
Herbs like nettle, peppermint, and chamomile have been used for centuries to soothe allergy symptoms. These herbs can be steeped in hot water to make a comforting infusion.
Eucalyptus Oil for Respiratory Health
Eucalyptus oil is known for its powerful anti-inflammatory and decongestant properties. It can be used in a diffuser or added to a steam bath to help clear the airways and reduce allergy symptoms.
Natural Antihistamines (Quercetin, Vitamin C, etc.)
Certain nutrients, such as quercetin and vitamin C, have natural antihistamine properties. They can help reduce the body's allergic response and alleviate symptoms. These nutrients can be obtained from foods or in supplement form.
Neti Pot: A Natural Nasal Rinse
A neti pot is a device used for nasal irrigation, a practice that involves flushing the nasal passages with a saline solution. This can help remove allergens and reduce nasal congestion.
Dietary Supplements (Butterbur, Bromelain, etc.)
In addition to natural remedies, certain dietary supplements can also play a role in alleviating allergy symptoms. One such supplement is Butterbur, a plant extract that has demonstrated effectiveness comparable to some antihistamines in blocking allergic reactions. Another beneficial option is Bromelain, an enzyme found in pineapples, known to reduce nasal swelling and thin mucus, thus easing breathing.
However, it is essential to exercise caution and seek guidance from a healthcare provider before incorporating any dietary supplement into your regimen.
DIY Allergy-Proofing Techniques
Creating an allergy-proof environment at home is an essential step in managing allergies. Here are some strategies you can apply:
Natural Cleaning Solutions: Regularly clean your home using natural solutions like vinegar and baking soda to eliminate allergens. Avoid using harsh chemical cleaners, as they can trigger allergic reactions.
Reducing Allergens at Home: Dust mites, pet dander, and mold are common allergens present in homes. Use hypoallergenic covers for mattresses and pillows, regularly wash bedding in hot water, and use a dehumidifier to keep humidity levels low and prevent mold growth.
Creating Your Personal Allergy Relief Routine: Make a routine of using home remedies like steam therapy, herbal infusions, or nasal rinses regularly to keep allergy symptoms at bay.
Integrating Home Remedies with Professional Guidance
While home remedies can be effective in managing allergy symptoms, it's important to remember that they are not a substitute for professional medical advice. One should always check with a medical professional prior to beginning a new treatment plan.
Penn Medicine Becker ENT & Allergy provides a broad selection of allergy treatments. Our team is equipped to diagnose and provide treatment at our clinic in Mullica Hill, NJ, whether you're near Glassboro, Pitman, Auburn, or Deptford. Contact us today and schedule a consultation.