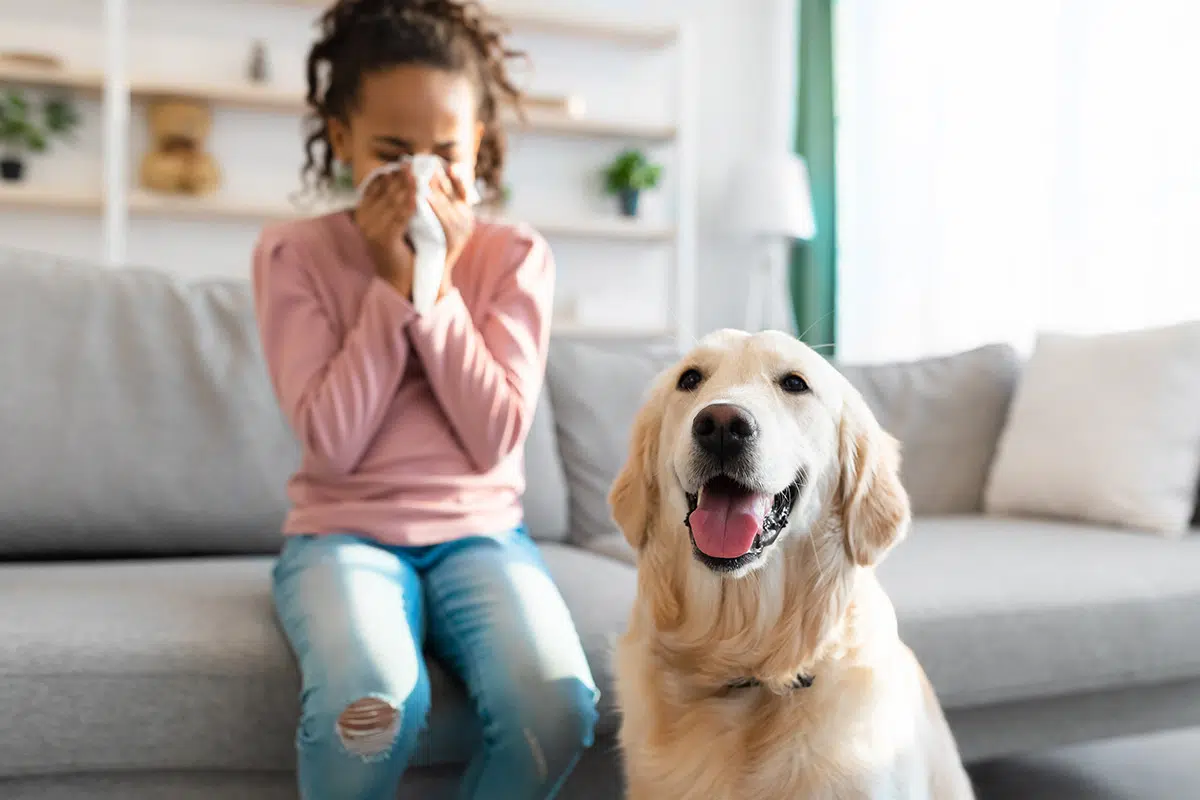 Pet allergies, including cat allergies and pet dander allergies, can be a significant concern for many people, particularly those with a predisposition to allergic reactions. These allergies can trigger a spectrum of allergy symptoms, ranging from mild symptoms such as sneezing, itching, and a runny nose to more severe respiratory issues like shortness of breath, chest tightness, and in extreme cases, life-threatening asthma symptoms.
The allergens responsible for these reactions are often found in pet saliva, skin cells, and urine. These harmless proteins can become airborne allergens, settling on surfaces throughout your home and causing constant exposure and chronic allergy symptoms. This is particularly true for animal-related allergens such as dog and cat dander allergens, which are prevalent in animals with fur or feathers. Understanding the causes, common allergens, and effective pet allergy treatments can help you live comfortably.
Understanding Pet Allergies
Causes and Common Allergens
Pet allergies are triggered by the immune system's hypersensitive response to certain proteins. These proteins, or allergens, are found in a pet's skin cells, urine, or saliva. When these allergens come into contact with an allergic person, they can trigger a range of allergy symptoms.
The allergens are often harmless proteins that the body mistakenly identifies as a threat, leading to an allergic reaction. Dogs and cats are the most common sources of pet allergens, with their dander, or dead skin cells, often being the primary culprit. However, it's not just the fur or feathers that can cause an allergic reaction.
Recognizing Symptoms and Reactions
The symptoms of a pet allergy can manifest differently in each individual, making it crucial to understand the common signs. Typically, these symptoms include sneezing, a runny or stuffy nose, itchy or watery eyes, and coughing – all of which are the body's response to allergens caused by pets.
Some people with allergies may also develop skin rashes or hives due to the allergens present in pet saliva, often in areas where a pet has licked them. In more severe cases, individuals may experience difficulty breathing, chest tightness, or even anaphylactic shock, which are serious symptoms that require immediate medical attention. For those with pre-existing conditions like asthma, exposure to pet allergens can exacerbate their asthma symptoms, making their condition worse.
Reducing Pet Dander at Home
Vacuum and Clean Regularly
You can significantly decrease pet allergens in your home by vacuuming and cleaning on a regular schedule. Use a vacuum with a high-efficiency particulate air (HEPA) filter to trap allergens. Additionally, clean surfaces like countertops and furniture where pet dander can accumulate.
Use an Air Filter
Air purifiers can also be equipped with HEPA filters to significantly reduce the concentration of airborne allergens in your home, including pet dander, dust mites, and pollen. These devices work by trapping allergens, preventing them from circulating in the air you breathe. They can be particularly beneficial in bedrooms or other areas where you spend a lot of time, helping to lower your overall allergy load.
Bathe Your Pets Regularly
Giving your pets baths on a regular basis can help decrease how many allergens they release. However, bathing too frequently can be harmful to a pet's skin, so it's best to consult with a veterinarian about the appropriate bathing schedule for your specific pet.
Wash Your Hands & Clothes
After engaging in play or simply handling your pet, it's important to wash your hands thoroughly. This is because pet allergens, such as proteins found in pet saliva, skin cells, and even urine, can easily transfer to your hands. These allergens can trigger allergic reactions in sensitive individuals, causing symptoms ranging from mild, such as sneezing and itching, to severe, like shortness of breath or anaphylactic shock.
Use Washable Rugs
Instead of carpets, which can trap allergens such as pet dander, cat saliva, and even dust mites, consider using washable rugs. These rugs can be cleaned regularly in the washer machine with antiseptic products suitable for allergy sufferers and will remove airborne cat allergens or airborne dog allergens. Clean fabric surfaces can be a tremendous help to reduce allergen levels in your home.
Keep Your Pet's Bedding Always Clean
Just like your bedding, your pet's bedding can be a significant source of allergens, including pet dander, saliva, and even urine, which can trigger pet allergy symptoms. These allergens are microscopic flakes of skin shed by animals with fur or feathers and they can stick to various surfaces in your home, including your pet's bedding.
Coping with Allergies in Multi-Pet Homes
Which Dog Breeds Produce More Dander?
While all dogs produce dander, certain breeds are known to produce more than others. These include breeds such as the Saint Bernard, German Shepherd, and Labrador Retriever. On the other hand, breeds like the Poodle, Bichon Frise, and Shih Tzu are often recommended for those with allergies, as they tend to produce less dander.
Which Cat Breeds Produce More Dander?
Different cat breeds, (and dog breeds) vary in the amount of dander they produce. Breeds such as the Persian and Maine Coon are known for producing more dander, while others like the Siamese and Devon Rex produce less. However, individual reactions to different breeds can vary, so it's always a good idea to spend time with a breed before bringing one home.
Allergy Medications and Treatments
When it comes to managing pet allergies, there are several medical treatments and medications that can help alleviate symptoms. These range from over-the-counter products to prescription medications.
Over-the-Counter Options
Over-the-counter medications can be a great first line of defense against pet allergies. Antihistamines such as Benadryl, Zyrtec, and Claritin can help reduce symptoms like sneezing, itching, and a runny nose. Nasal sprays like Flonase or Nasacort can also help with nasal congestion and other symptoms. Always read and follow the label instructions, and consult your healthcare provider if you have any questions or concerns.
Seeking Professional Guidance
If over-the-counter allergy medications are not providing enough relief from your pet allergy symptoms, it may be time to seek the help of an allergist. Allergy specialists are equipped with the knowledge and tools to help manage and treat allergies effectively.
Penn Medicine Becker ENT & Allergy offers specialized healthcare services to treat the ears, nose, throat (ENT), and allergies, providing comprehensive care. Our team of allergists can provide a thorough evaluation and personalized treatment plan. We have an allergy clinic in Lawrenceville, NJ, serving areas in Rocky Hill, Pennington, Skillman, and Mercerville.