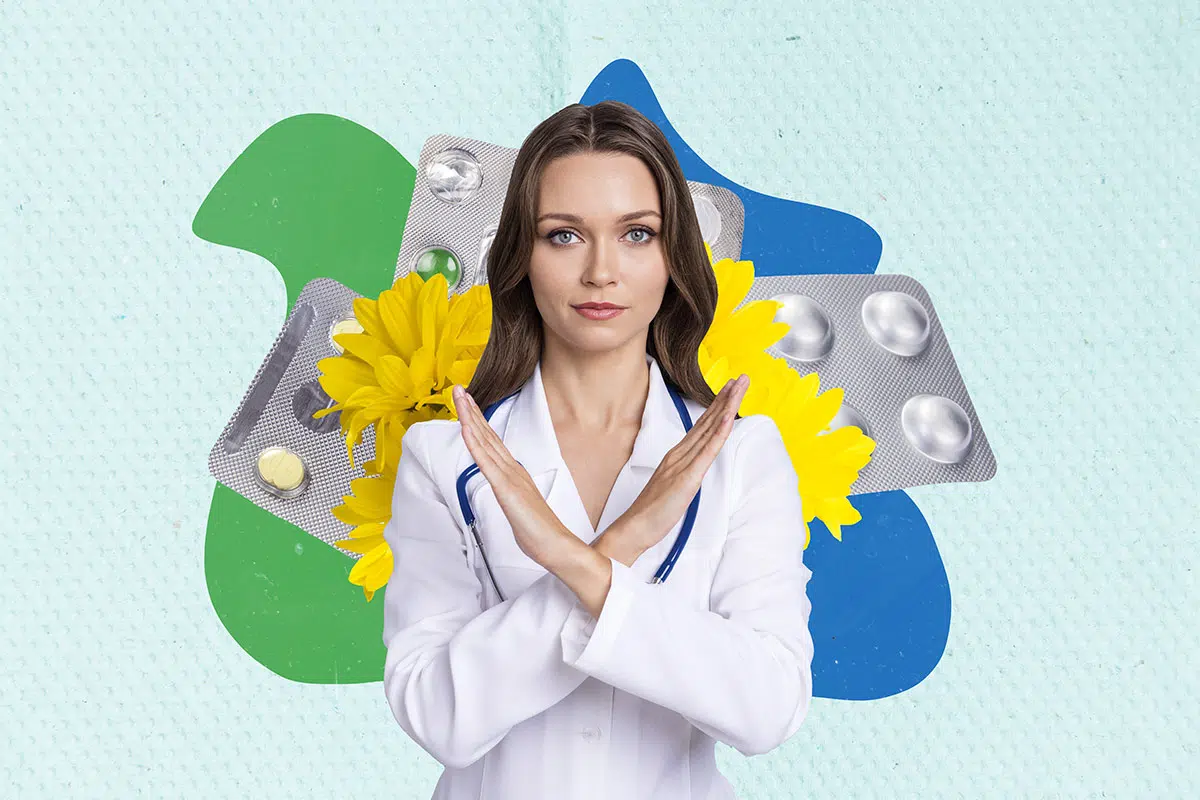 Knowing what to avoid before allergy testing is crucial for getting accurate results. Certain foods, drinks, and medications can interfere with the test results, leading to false positives or negatives.
By avoiding them, you can ensure the most accurate diagnosis, helping your healthcare provider develop an effective treatment plan.
Individuals dealing with allergies may find themselves already taking antihistamines or other allergy medications to manage their symptoms before considering allergy testing. It's important to recognize that these medications can significantly impact the accuracy of test results. However, antihistamines are not the only culprits when it comes to potential interference.
This article will guide you through the types of allergy tests and what you should not do before these tests.
Types of Allergy Tests
Allergy tests come in different forms, and the type of test you need will depend on your symptoms and medical history.
Skin Prick or Scratch Test
A skin prick or scratch test is the most common tool in an allergy doctor's arsenal, and it's often the first step in diagnosing a variety of allergies.
During this test, a small amount of potential allergens, such as cat allergens, environmental allergens, or food allergens, are pricked or scratched into the skin. This is done using a tiny, sterile lancet that barely penetrates the skin's surface and causes minimal discomfort.
The purpose of this test is to observe if an allergic reaction occurs. If present, the reaction typically manifests as a small, raised bump similar to a mosquito bite, indicating an immune response to the allergen in question.
Intradermal Skin Test
An intradermal skin test, another common type of allergy testing, is similar to a skin prick test. However, the method of allergen introduction differs. Instead of being pricked or scratched into the skin, the potential allergens, which could range from environmental allergens like dust mites to food allergens, are injected directly into the skin's surface.
This method is often used by allergy doctors when the skin prick tests do not yield clear results. The intradermal skin test is more sensitive and capable of detecting even the slightest immune response to the allergens in question.
Certain allergy medications, including both prescription and over-the-counter antihistamines and nasal antihistamine sprays, should be avoided before testing. Your doctor will provide specific guidance on when to stop antihistamines before undergoing allergy testing, ensuring that the tests are as accurate as possible.
Patch Test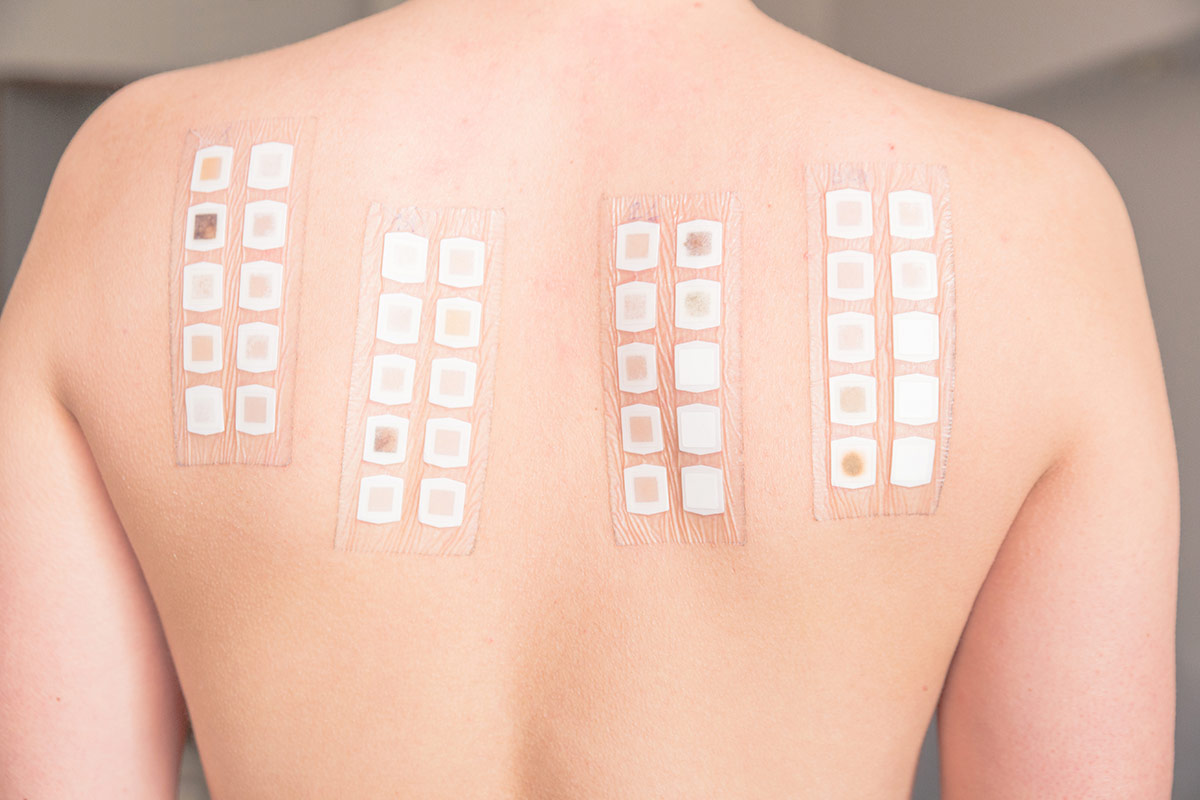 A patch test is commonly used to identify specific allergens that cause contact dermatitis, a type of skin reaction that can cause itchy, inflamed skin. During this test, small amounts of potential allergens are carefully applied to patches. These patches are then placed on the skin. The patches remain on the skin for 48 hours, which is enough time for allergic symptoms to appear.
Immunoglobulin E (IgE) Blood Test
An Immunoglobulin E (IgE) blood test, a common type of allergy testing, is often employed when skin tests such as skin prick tests or intradermal skin tests are not suitable. This could be the case for patients with severe skin conditions that could potentially skew the results of skin tests.
Additionally, individuals who are unable to discontinue certain medications that are known to interfere with the results of allergy tests may also be candidates for an IgE blood test. The IgE blood test involves a simple blood draw, which is then analyzed in a laboratory.
The test measures the amount of IgE antibodies in the blood, which are produced by the immune system in response to an allergic reaction.
Challenge Test
A challenge test involves the direct consumption or inhalation of a potential allergen, under medical supervision. This test is often used to diagnose food or medication allergies when skin tests and blood tests are inconclusive.
Before a challenge test, patients should avoid consuming any food or drinks that they believe might be causing reactions.
Challenge tests are valuable diagnostic tools often used to uncover allergies when other methods, such as allergy skin testings or blood tests, yield inconclusive results.
Medications to Stop Before Getting Tested for Allergies
In addition to antihistamines, there are other medications that may affect the results of allergy tests. These include certain antidepressants, heartburn medications, and some sleep aids. It's important to provide your doctor with a complete list of all medications, treatments, or herbal remedies you are taking. Never discontinue taking a prescribed medication without consulting your doctor.
What Happens If You Take Antihistamines Before an Allergy Test?
Antihistamines block the immune response to allergens by actively suppressing the immune system's reaction to allergens, making it more challenging for diagnostic tests to detect the presence of allergies accurately. This can lead to a false negative result on an allergy test. If you are concerned about discontinuing an antihistamine, speak to your doctor, who can give you strategies to help you feel well during that period of time.
What Not To Eat Before An Allergy Test
Avoiding certain foods and drinks before an allergy test can help ensure accurate results. For example, certain fruits and vegetables with high cross-reactivity with allergens, such as apples, cherries, melons, cucumbers, and bananas, can result in false-positive allergy test results. You will be given a list of foods to avoid, including any known or suspected foods that produce a reaction.
Why Should Caffeine Be Avoided Prior to Allergy Testing?
Caffeine, found in coffee, tea, and some soft drinks, can impact physiological reactions such as heart rate and blood pressure. It may mask symptoms and reduce immune system responses during an allergy test. It can also increase anxiety, which can affect the accuracy of allergy test results.
Medications You Should Not Stop Taking
While it's important to discontinue certain medications before an allergy test, there are others that you should not stop taking. These include medications for chronic or acute conditions such as heart conditions, high blood pressure, and asthma. Stopping these medications can be dangerous and should only be done under the supervision of a healthcare professional. If you are unsure about any medication, it's best to consult your doctor.
Where to Get An Allergy Test in New Jersey or Pennsylvania
If you need help with your allergies or need allergy testing in New Jersey or Pennsylvania, consider the experts at Penn Medicine Becker ENT & Allergy. They have multiple locations in NJ and PA, including Philadelphia, Yardley, Lawrenceville, Hillsborough, Princeton, Mullica Hill, Robbinsville, Sewell, Freehold, Voorhees, Mount Laurel, Monroe, and Plainsboro.