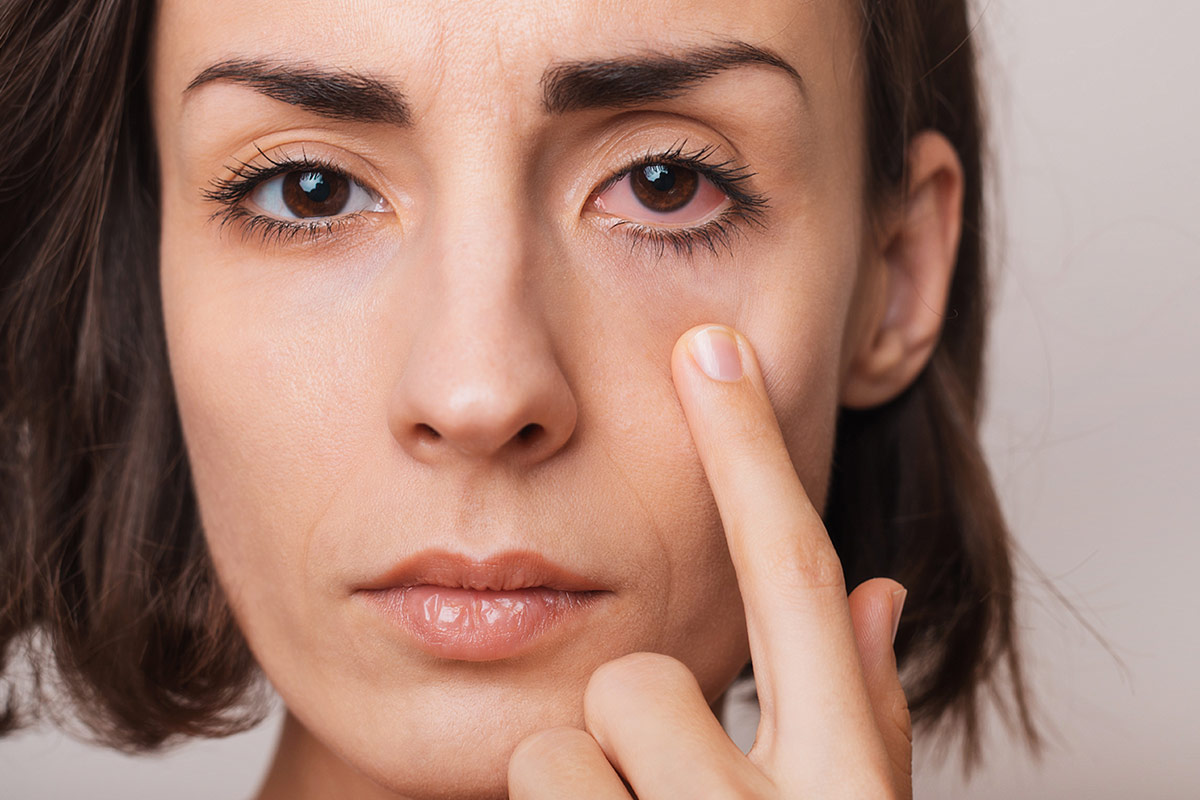 Dry eyes and allergies are two common conditions that often intertwine, causing discomfort and potentially disrupting daily activities.
The question of whether allergies can actually cause dry eyes is a common one, and the answer lies in understanding the intricate nature of dry eye syndrome and the profound impact of allergies on eye health.
What Is Dry Eye and What Causes It?
Dry eye syndrome is a prevalent condition that occurs when there aren't enough tears to lubricate the eye adequately. A sufficient tear film is crucial for keeping the front part of the eye healthy and ensuring good visual clarity. The eyes become dry when the quantity and/or quality of tears fails to keep the surface of the eye adequately lubricated.
There are multiple causes of dry eye syndrome. It can be due to an imbalance in the tear-production and drainage system of the eye, the environment, certain medications, or health conditions. Aging is also a factor, as tear production tends to decrease with age.
How Allergies Affect Your Eyes?
Allergies can negatively impact your eye health. When your body comes into contact with certain substances, known as allergens, it may react by releasing chemicals that cause allergy symptoms. Typical allergenic substances that can impact the eyes include pollen, dust particles, pet dander, mold, and cigarette smoke.
In response to allergens, your eyes may become red, itchy, and watery, a condition known as allergic conjunctivitis. This is not only uncomfortable but can also interfere with your vision.
Seasonal Allergies and Dry Eyes: The Connection
Seasonal allergies are a common cause of allergic conjunctivitis. They occur at certain times of the year, typically in the spring when tree pollen counts are high, or in the fall due to pollen.
While seasonal allergies primarily cause common symptoms such as sneezing, nasal congestion, and itchy eyes, they can also contribute to dry eyes. The inflammation caused by allergic reactions can affect the tear glands, leading to a decrease in tear production. This can result in dry eye symptoms, including a gritty sensation, light sensitivity, burning, stinging, and blurry vision.
Conversely, having dry eyes can make the eyes more susceptible to allergens, as the tear film is responsible for washing away particles that come into contact with the eye. A lack of adequate tears means that allergens have more opportunity to irritate.
While allergies and dry eyes are separate conditions, they are closely linked. Allergies can lead to the development of dry eyes, while the presence of dry eyes can intensify the effects of allergy symptoms. Proper diagnosis and treatment are important for managing both conditions and preventing further complications.
Seasonal Allergens in Philadelphia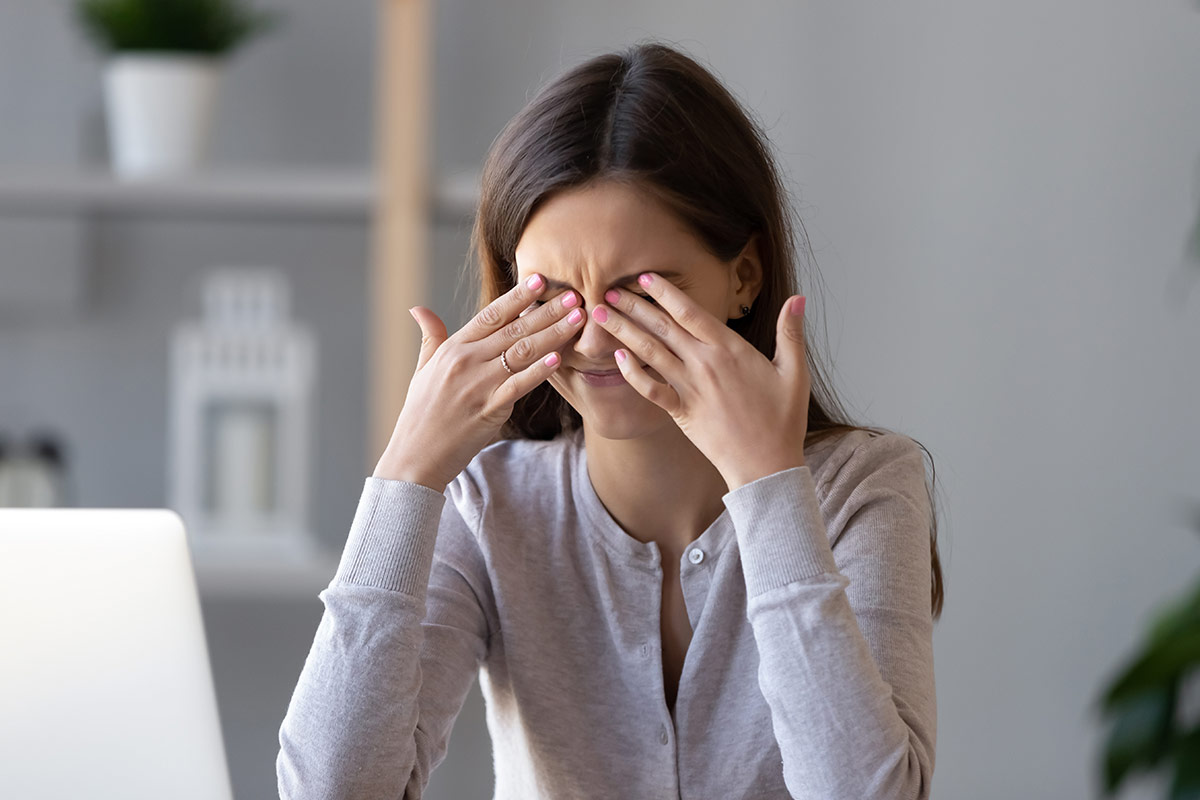 The city of Philadelphia and its surrounding towns are no strangers to seasonal allergens. These airborne substances can cause a significant increase in allergy symptoms, including dry eyes. In this area, the allergens you're most likely to encounter are tree pollen in the spring, grass pollen in the summer, and ragweed pollen in autumn.
In addition to ragweed pollen, other allergens such as pet dander, dust mites, and mold can also cause eye allergies and dry eyes. These allergens are present all year round and can be found both indoors and outdoors.
Also, environmental factors in Philadelphia, such as wind, humidity, and air pollution, can exacerbate dry eye symptoms. For instance, wind can increase tear evaporation, leading to dry eyes, while air pollution, such as diesel exhaust, can irritate the eyes and trigger an allergic response.
What Steps Can I Take to Avoid Dry Eyes During the Allergy Season?
Preventing dry eyes during allergy season involves both managing exposure to allergens and taking care of your eye health. Here are some strategies:
Avoid Going Outside When Pollen Is High: Generally, pollen levels peak during the late morning and early evening hours.
Use Air Conditioning: Air conditioning can help filter out allergens and keep the air in your home clean. Make sure to keep windows closed to prevent pollen from entering.
Wear Sunglasses: Sunglasses can protect your eyes from airborne allergens when you're outside. They can also shield your eyes from wind and sun, which can exacerbate dry eye symptoms.
Maintain Eye Hygiene: Regularly cleaning your eyes with a warm cloth can help remove allergens and soothe dry eyes. Avoid touching or rubbing your eyes, as this can worsen symptoms.
Stay Hydrated: Drinking plenty of water can help maintain healthy tear production.
Consult an Eye Doctor: Regular eye exams can help detect dry eye disease early and provide a proper treatment plan.
Treating Allergy-Induced Dry Eye Symptoms at Home
If you're suffering from dry eyes due to allergies, there are several at-home treatment options you can consider:
Artificial Tears: Over-the-counter artificial tears can help alleviate dry eye symptoms by supplementing your natural tear production. They help to lubricate the eyes, wash away allergens, and soothe irritation.
Cold Compresses: Applying a cold compress to your eyes can help reduce inflammation and provide relief from itching and burning sensations.
Allergy Medication: Over-the-counter or prescription allergy medications, including antihistamines and mast cell stabilizers, can help control allergic reactions and reduce dry eye symptoms.
Eye Hygiene: Regularly cleaning your eyelids with a warm cloth can help remove allergens and reduce inflammation.
Humidifier: Using a humidifier can help add moisture to the air, reducing dryness and irritation in the eyes.
It's important to remember that while these treatments can provide temporary relief, they do not address the underlying cause of dry eyes. If you find that your symptoms are not improving or are getting worse, it's advisable to seek a thorough eye examination and tailored treatment from a clinic.
Where To Find An Allergist in Philadelphia
If you are dealing with persistent dry eye symptoms due to allergies, it may be time to consult an allergist. An allergist can help identify the specific allergens causing your symptoms and provide a personalized treatment plan.
Penn Medicine Becker ENT & Allergy in Philadelphia is a comprehensive healthcare provider offering services such as allergy treatments and ENT care with multiple locations in Pennsylvania.
Penn Medicine Becker ENT & Allergy offers consultations for residents in Philadelphia and surrounding towns such as Bryn Mawr, Conshohocken, Jenkintown, Kensington, Ardmore, Havertown, and Media.
When it comes to managing your dry eye symptoms and allergies, seeking professional help is crucial. An experienced allergist can provide you with the most effective treatment options to improve your quality of life. Schedule a consultation today.