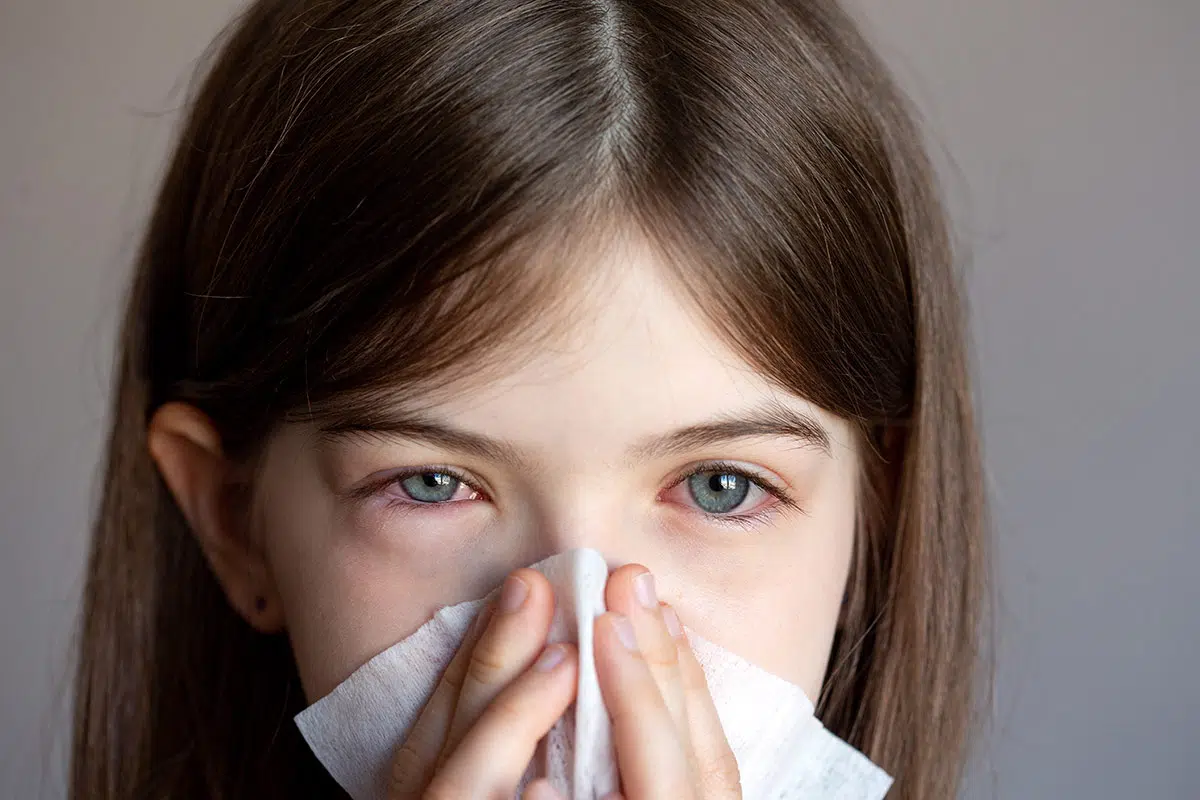 Allergic conjunctivitis, often referred to as a pink eye infection, is an inflammation of the eye caused by exposure to allergens. Unlike viral conjunctivitis and bacterial conjunctivitis, this form of conjunctivitis is not contagious and affects approximately 40% of the population. It is a common allergic condition that can cause discomfort and inconvenience, leading many to wonder, "How long does allergic conjunctivitis last?" Understanding the duration, causes, and treatment options for this condition can help those affected manage their symptoms more effectively.
What is Allergic Conjunctivitis?
This common condition occurs when the eyes come into contact with certain allergens. Some allergens known to cause allergic conjunctivitis include animal dander, pollen grains, dust mites, and mold spores. The conjunctiva, or the transparent mucous membrane covering the eyeball, becomes inflamed when exposed to these allergens. This inflammation is a response to substances that the body identifies as harmful, despite them being generally harmless to most people.
The common symptoms of allergic conjunctivitis can include redness, watery discharge, burning, and itching of both eyes, a common symptom of eye allergies. Other symptoms can include sensitivity to light, swollen eyelids, and in some cases, blurred vision. These symptoms are typically present in both eyes and can range in severity from person to person.
Duration of Allergic Conjunctivitis
How long the allergic conjunctivitis lasts depends on an individual's contact with the specific allergen contributing to it. There are three types of allergic conjunctivitis: Acute, Seasonal, and Perennial.
Acute allergic conjunctivitis occurs suddenly after exposure to an allergen, and symptoms usually disappear within 24 hours. On the other hand, seasonal allergic conjunctivitis is persistent during a particular pollen season, which varies depending on the location. Symptoms can last as long as the patient is in the presence of the allergens. Finally, perennial allergic conjunctivitis is a chronic condition typically caused by indoor allergens. The symptoms can occur at any time of year but tend to worsen when higher amounts of allergens are present in the surroundings and make contact with the eyes.
Causes of Allergic Conjunctivitis
Allergic conjunctivitis, one of the common eye conditions, is a result of the immune system's hyperactive response to certain substances. These substances, identified by the body as harmful, are in fact, generally harmless for most people. Referred to as allergens, these substances can be found in both indoor and outdoor environments, triggering allergic eye conditions.
Pet Dander
One common household allergen is pet animal dander. Pet dander refers to microscopic pieces of skin shed by furry animals like cats, dogs, rodents, and birds. For some people, contact with these particles can trigger an allergic reaction, including symptoms of allergic conjunctivitis.
Dust Mites
Dust mites, another widespread indoor allergen, are tiny creatures that thrive in household dust. The dead skin cells shed by people and pets are fed on by these dust mites. Exposure to dust mites can trigger allergic reactions in sensitive individuals, leading to conditions like allergic conjunctivitis. Dust mites can cause severe eye allergy symptoms, and their presence in the home environment can exacerbate allergic conditions.
Pollen
Pollen, a common outdoor allergen, is often responsible for triggering allergic conjunctivitis. Released by trees, grasses, and weeds, especially during the spring, summer, and fall, pollen is a significant cause of eye allergies. This allergen can cause many symptoms, particularly during the allergy season when these plants release their pollen into the air.
Diagnosing Allergic Conjunctivitis
Diagnosing allergic conjunctivitis involves a thorough eye examination and review of the patient's medical history, including any known allergies. Your healthcare provider may also perform certain tests to confirm the diagnosis and rule out other eye conditions.
Common Symptoms and Tests Your Healthcare Provider May Perform
Some common symptoms of conjunctivitis include redness, itchiness, watery eyes, swollen eyelids, and sensitivity to light. In some cases, individuals may also experience a runny nose and sneezing.
To assess vision and examine the eyes, your healthcare provider may conduct a visual acuity test and use a slit lamp which is a microscope with a bright light. They may also take a sample of your conjunctival tissue for laboratory allergy testing.
In some cases, an allergy skin test may be recommended. This involves placing a small amount of various common allergens on your skin using tiny punctures or pricks. If you're allergic to any of the substances, you'll develop a raised bump or reaction at the test location on your skin.
It's important to remember that while allergic conjunctivitis is uncomfortable, it's not a threat to your vision and may not cause permanent eye damage. However, conjunctivitis symptoms that persist or impact your quality of life should be evaluated by a healthcare provider.
Treatments for Allergic Conjunctivitis
The medical approach for treating allergic conjunctivitis is centered on alleviating symptoms and minimizing exposure to allergens. Over-the-counter options encompass artificial tears, which flush out eye irritants, antihistamine eye drops that alleviate itching and redness, along with various allergy medications.
For those suffering from more severe symptoms, allergy medications such as oral antihistamines may be recommended. These can help to control the body's response to allergens, reducing inflammation and discomfort. In addition to these, there are also topical antihistamines that can be applied directly to the eye. These can provide fast relief for symptoms such as itching, redness, and swelling.
For individuals who wear contact lenses, it's important to note that these can sometimes exacerbate symptoms of allergic conjunctivitis. This is because allergens can become trapped behind the lens, causing irritation. In these cases, it may be necessary to temporarily stop wearing contact lenses until symptoms subside.
In cases where allergic conjunctivitis is caused by a viral or bacterial infection, antibiotic eye drops may be prescribed. These can help to clear up the viral infection and reduce inflammation. However, it's important to note that this form of treatment is not effective against allergic conjunctivitis caused by allergen exposure.
When dealing with pink eye treatment, using a clean washcloth or wet washcloth to gently clean the eye can also provide relief. However, it's important to ensure that the cloth is clean to avoid introducing any additional bacteria or viruses into the eye.
Finally, preventive measures are also an important part of managing allergic conjunctivitis. This can include avoiding known allergens, using air filters to reduce the presence of allergens in your home, and washing your hands regularly to prevent the spread of bacteria and viruses.
When to see an Allergy Specialist
If over-the-counter treatments are not sufficient, or if symptoms persist, it may be time to seek medical treatment from an allergy specialist. They can provide a more detailed examination and may prescribe stronger allergy medicine, such as nonsteroidal anti-inflammatory drugs (NSAIDs) or corticosteroids.
An experienced doctor can also provide allergen immunotherapy, also known as allergy shots. These injections gradually expose your body to increasing amounts of the allergen, helping your immune system become less reactive. This allergy treatment approach can be particularly beneficial for individuals with perennial allergic conjunctivitis, who experience symptoms year-round.
If you're looking for allergy specialists in Freehold, New Jersey, Penn Medicine Becker ENT & Allergy serves the areas of Holmdel, Farmingdale, Montrose, Siloam, and Spring Valley. We understand that every patient is unique, and we tailor our treatments to suit your specific needs. Contact us today to schedule a consultation.