Pediatric Asthma
Pediatric asthma is a chronic inflammatory disorder of the airways caused by an obstruction. While there is no cure, it is easily managed with a combination of long-term and quick relief treatments that can help your child and prevent lung damage from occurring. If you live in the states of New Jersey or Pennsylvania, Penn Medicine Becker ENT & Allergy Center offers treatment for pediatric asthma among its services.
What Causes Pediatric Asthma?
Asthma in Children can be frightening to parents but is a common condition that affects millions of children annually. It is defined as a chronic inflammatory disorder of the airways caused by an obstruction. While there is no cure, it is easily managed with a combination of long-term and quick relief treatments that can help your child and prevent lung damage from occurring.
Asthma develops when the immune system becomes overly sensitive to a particular trigger. When the body encounters this irritant, the bronchi contract, the mucus membranes swell, and they produce more mucus than usual. This causes the airways to narrow and leads to breathing difficulties. It can be triggered by a number of different factors. It is often hereditary, with no obvious cause. It can be brought on by an upper respiratory infection, allergies, pollution, exercise (yes, exercise-induced asthma is a thing), or a change in the weather.
Children with asthma or a family history of asthma and upper respiratory diseases such as sinusitis, rhinitis, and reflux are most at risk for contracting it. Other risk factors include allergies, low birth weight, and obesity.
Pediatric Asthma Symptoms
The symptoms of pediatric asthma vary depending on the severity and type of asthma. Common signs include wheezing, coughing, chest tightness, shortness of breath, and fatigue. In some cases, these symptoms can be mild or even unnoticeable. In other cases, they can be severe and require immediate medical intervention. Severe asthma attacks may cause difficulty breathing, blue lips/skin color change due to lack of oxygen (cyanosis), rapid pulse rate, and extreme fatigue.
For children with mild to moderate asthma, lifestyle modifications such as avoiding triggers like pollen or pet dander may help reduce the frequency and severity of symptoms. For those with more severe cases, however, long-term management is essential for them to maintain an active life and avoid acute exacerbations that could lead to hospitalization. A combination of medications including inhaled corticosteroids (for inflammation reduction), bronchodilators (to relax the airways), rescue inhalers (for quick relief during an attack), biologics (to target specific proteins involved in the development of asthma) are often prescribed by allergists and pulmonologists for treatment of children with asthma.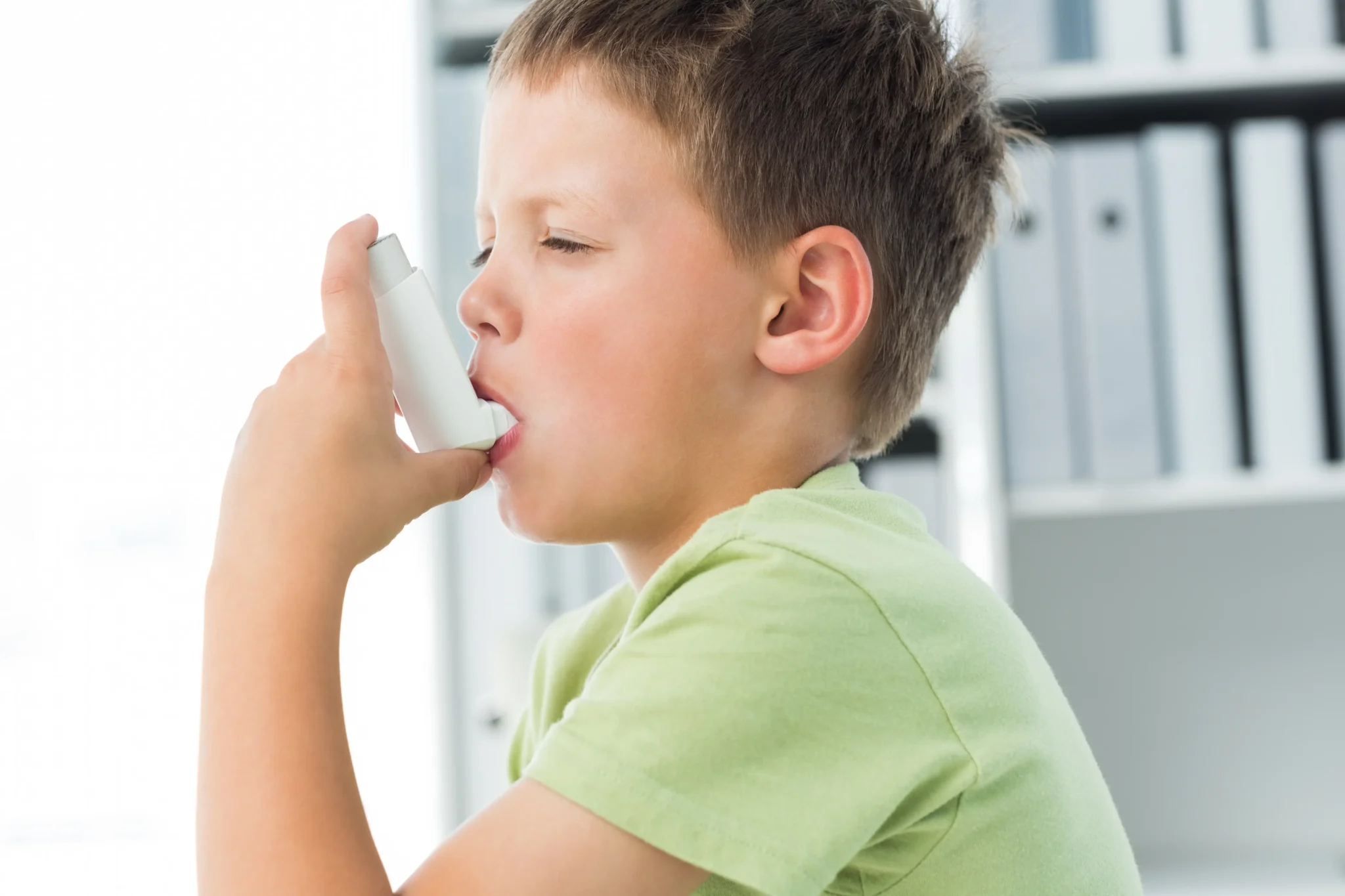 Benefits of treating pediatric asthma
The benefits of treating pediatric asthma are numerous. Treatment can reduce the frequency and severity of asthma attacks, allowing children to lead more active lives. Treatment also helps prevent future exacerbations and can improve overall airway function. In addition, treatment can help to reduce other respiratory symptoms like chest tightness, coughing, and shortness of breath. With proper management and treatment, many children with pediatric asthma are able to lead full and healthy lives.
Risks of Pediatric Asthma
Becker ENT and Allergy emphasize the importance of understanding the risks associated with pediatric asthma. This chronic condition is caused by airway obstruction, and it can have serious effects on children's quality of life if left untreated or poorly managed. The most common symptom of pediatric asthma is chest tightness, which can be mild or severe depending on the severity of the attack. Other potential symptoms include coughing, wheezing, shortness of breath, and difficulty breathing.
Management of pediatric asthma consists of both long-term and quick relief treatments. Long-term treatments help reduce inflammation and prevent symptoms from occurring in the first place. These treatments may include environmental control measures to reduce exposure to triggers such as pet dander, seasonal allergies, viral infections, and other allergens. Oral corticosteroids may also be prescribed to reduce inflammation in more severe cases. Quick relief medications are used to immediately relieve symptoms during an asthma attack. In some cases, a combination of long-term control medications and quick relief inhalers may be necessary for effective management.
At Penn Medicine Becker ENT & Allergy Center we also offer comprehensive treatment plans tailored to each patient's individual needs. Our team of asthma specialists works with patients to develop personalized treatment plans that include lifestyle modifications as well as evidence-based medical interventions such as pulmonary function testing and allergy tests when appropriate. We strive to provide our patients with the best possible care while also helping them maintain a good quality of life despite their condition.
Parents need to understand the risks associated with pediatric asthma so they can seek proper medical intervention before symptoms become more severe. With proper management and treatment plans developed by experienced specialists like those at Penn Medicine Becker ENT & Allergy Center, children suffering from this condition can lead full and healthy lives while avoiding more serious complications from uncontrolled asthma attacks
Diagnosing Pediatric Asthma
"Am I having an asthma attack" is one of the scariest things a parent can hear and diagnosis can be challenging since most of the symptoms are found in other illnesses. Following a physical exam and a discussion of your child's symptoms and family medical history, his or her doctor will run diagnostic tests to check for asthma. These may include lung function tests using a peak flow meter or spirometer, allergy testing, x-rays, and CT scan. If your child is younger than three years old, a diagnosis may be delayed since asthma medications in very young patients can lead to unknown side effects.
Most pediatric asthma cases can be diagnosed by a healthcare provider with a physical examination and discussion of symptoms. It is important to discuss any family history of respiratory tract infections or allergies in order to identify any possible asthma triggers.
Once your child has been diagnosed with pediatric asthma, they will need to develop an Asthma Action Plan with their healthcare provider. This plan should include information on how to identify and avoid triggers, how to recognize early signs of an attack, when and how much medication should be taken, and when it is time to seek medical treatment for severe or persistent asthma attacks. Following closely this action plan can help your child manage their condition safely and effectively.
How is Pediatric Asthma Treated?
Inhaled Medications
Inhaled medications, such as inhaled corticosteroids and bronchodilators, are the mainstay of treatment for pediatric asthma. These medications are delivered directly to the lungs and can provide quick relief from symptoms. They may also reduce airway inflammation, which is important in preventing long-term effects associated with severe exacerbations.
Oral Medications
For children who have more persistent asthma symptoms or those who do not respond adequately to inhaled medications, oral medications may be prescribed. These include systemic corticosteroids and other anti-inflammatory medications that help reduce airway obstruction caused by inflammation.
Allergy Medications
Allergy medications can help reduce the severity of allergic reactions triggered by inhalant allergens (such as pet dander, pollen, and dust mites). These medications may be taken orally or through injections (allergy shots) and should be discussed with an allergist before use in asthmatic children.
Lifestyle Changes
It is important to manage environmental factors that can worsen asthma symptoms in children. This includes avoiding known triggers such as cigarette smoke, pets, strong perfumes/scents, dust mites, and mold; using pillow covers or covers on mattresses to reduce exposure to allergens; keeping doors and windows closed during high pollen season; monitoring humidity levels at home; and ensuring adequate ventilation in rooms where activities like painting or cooking take place.
Emergency Treatment
In cases when a child experiences severe symptoms of an asthma attack (shortness of breath, rapid pulse rate), prompt medical attention is needed as this could lead to hospitalization or even death if left untreated. Emergency department visits should occur if a child has difficulty speaking due to breathing problems or if they experience severe chest pain or fatigue along with their asthma attack symptoms. Chest X-rays may also be ordered during emergency visits as this will help healthcare providers determine the severity of the attack and plan proper treatment accordingly.
Triggers and Prevention of Pediatric Asthma Attacks
Triggers for pediatric asthma attacks can vary from person to person. Common triggers include allergens such as pollen, dust, animal dander, and smoke. It is important to identify and avoid potential triggers when possible to reduce the risk of an asthma attack. Allergists may use skin prick tests or blood tests to determine what types of allergens a child may be sensitive to and recommend lifestyle modifications accordingly.
In addition to avoiding potential triggers, prevention of pediatric asthma attacks should also involve monitoring symptoms closely and initiating treatment promptly if they worsen. Patients with mild asthma should have regular checkups with their healthcare provider to ensure that any changes in symptoms are noted and treated accordingly. If necessary, respiratory therapists or other specialists can be consulted for objective measures such as peak flow readings which can help monitor the severity of the disease and allow for timely interventions if needed. Treatment plans should also include medications such as inhaled corticosteroids or bronchodilators which can help reduce airway inflammation associated with more severe forms of allergic diseases like cystic fibrosis or inflammatory diseases like asthma. By following these steps, it is possible to reduce the risk of exacerbations in children with asthma and improve the overall quality of life in those living with this chronic condition.
Why Choose Our Specialists?
Pick one of our 16 convenient locations
for your Pediatric Asthma Treatment
Frequently Asked Questions About Pediatric Asthma