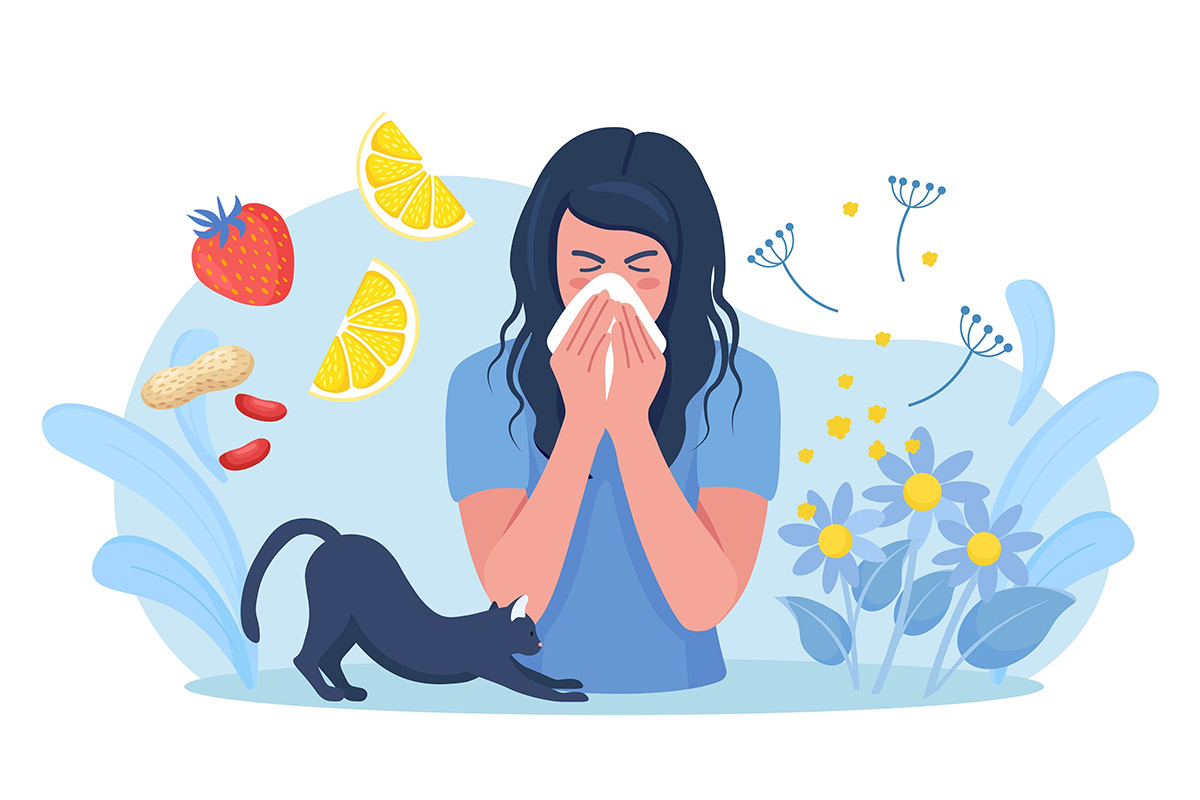 If you're dealing with an allergy cough, you're not alone. Many people experience this annoying symptom as a result of exposure to certain allergens. Fortunately, there are several strategies that can help you manage and even stop an allergy cough.
Understanding Allergic Coughs
An allergic cough is your body's response to an allergen, a common symptom that can be triggered by various common allergens such as dust mites, pet dander, and pollen. When you inhale an allergen, your immune system reacts by releasing substances that cause inflammation. This inflammation can affect your airways and cause a persistent cough, often referred to as an allergy cough. In some cases, the cough reflex is triggered by the accumulation of extra mucus in the airways, a common aftereffect of postnasal drip caused by allergic rhinitis. This can lead to a nagging cough or even a severe cough, which can be particularly bothersome during pollen seasons.
Symptoms of an Allergy Cough
An allergy cough, often a common symptom of allergic reactions, can manifest in various forms such as a persistent cough, a dry cough, or even a severe cough like whooping cough. This type of cough, often characterized by a chronic cough, can persist for several weeks, disrupting daily life and causing discomfort.
In some instances, the cough reflex in the cough center of your brain may be triggered, leading to a nagging cough or a hacking cough. Alongside the cough, you may also experience other allergy-related cough symptoms such as sneezing, a stuffy or runny nose, or an itchy nose. Watery or itchy eyes are also common, often accompanied by a scratchy throat or throat irritation. In some cases, you may also feel slight chest pain or chest tightness.
Recognizing Your Personal Allergy Triggers
Identifying the triggers that cause your allergy cough is the first step towards managing it effectively. Common triggers include pet dander, dust mites, and pollen.
Pet Dander
Pet dander, a common allergen, is composed of tiny, even microscopic, flecks of skin shed by a variety of animals with fur or feathers. This includes cats, dogs, rodents, birds, and other household pets. These minute particles can become airborne allergens, easily inhaled, and cause an allergic reaction in some individuals.
Dust Mites
Dust mites, tiny microscopic creatures that are invisible to the naked eye, are known to thrive in warm, humid environments. These tiny organisms feed on dead skin cells that humans naturally shed, making our homes, particularly our bedding, upholstered furniture, and carpets, their ideal habitat. The accumulation of dust mites in these areas can be a common trigger for allergic reactions, including an allergy cough.
Pollen Seasons
Pollen is a common allergen that can cause seasonal allergies. Pollen grains are discharged into the air by trees, grasses, and weeds to fertilize other plants. When you inhale pollen, it can trigger an allergic reaction, including a cough.
Common Allergens and Irritants
In addition to pet dander, dust mites, and pollen, there are several other common allergens and irritants that can trigger an allergy cough. These include mold, certain foods, insect stings, medications, and irritants such as smoke and perfume. Identifying and avoiding these triggers can be vital in managing an allergy cough.
Treatments for an Allergy Cough
There are several allergy treatments available that can help manage a cough from allergies. These include over-the-counter medications, prescription drugs, and natural cough remedies.
Allergy Medications for Cough Relief
Over-the-counter and prescription allergy medications can help reduce the symptoms of an allergy cough.
Over-the-Counter Antihistamines
Antihistamines work by blocking the action of histamine, a substance in the body that causes allergic symptoms. Over-the-counter antihistamines can provide relief from an allergy cough. These include fexofenadine (Allegra) and loratadine (Claritin), which can provide relief without making you feel tired.
Decongestants and Expectorants
Decongestants are a type of medication that can provide temporary relief from a stuffy nose and sinus pressure, common symptoms of an allergic reaction. They work by constricting the blood vessels in your nasal passages, reducing swelling, and allowing air to flow more freely.
Natural Remedies for Soothing Coughs
Natural remedies can indeed be a potent ally in soothing an allergy cough, providing relief from the nagging, persistent cough that often accompanies exposure to common allergens.
Honey and Herbal Teas
Honey, a natural remedy, is known for its soothing properties that can alleviate a sore throat and reduce the frequency of an allergy cough. A spoonful of honey, especially when mixed with warm water, can provide immediate relief by coating the throat and reducing irritation. This natural mechanism can be particularly effective in managing a dry cough, a common symptom of allergies.
Steam Inhalation and Saline Rinse
Using a humidifier or taking a hot shower can help to soothe a cough by adding moisture to the air and your throat. Similarly, a saline rinse can help to clear your nasal passages and reduce congestion.
Lifestyle Adjustments for Cough Relief
Making changes to your lifestyle can significantly help in managing and reducing the frequency of an allergy cough. Here are some steps you can take:
Allergy-Proofing Your Living Space
To reduce exposure to allergens, consider allergy-proofing your home. This may involve using allergen-proof covers on your mattresses, pillows, and box springs, washing your bedding regularly in hot water, and keeping your home clean and free of dust and pet dander.
Reducing Indoor and Outdoor Allergen Exposure
Minimizing your exposure to allergens both indoors and outdoors can help alleviate an allergy cough. This may mean keeping windows closed during pollen season, avoiding outdoor activities on high pollen days, and using air conditioning in your home and car.
Using Air Purifiers and Humidifiers
Air purifiers can help remove allergens from the air in your home, while humidifiers can add moisture to the air, which can soothe a dry throat and reduce coughing. Make sure to clean these devices regularly to prevent mold and bacteria buildup.
Staying Hydrated and Rested
Drinking plenty of fluids can help keep your throat moist and reduce coughing. Getting enough sleep is also important, as it can help your body recover and reduce the severity of allergy symptoms.
Avoiding Smoking and Irritants
Smoke and other irritants can worsen an allergy cough. Avoid smoking and exposure to secondhand smoke. Also, try to stay away from strong odors and fumes, such as those from cleaning products and perfumes.
When to Consult an Allergist or Doctor
If your allergy cough persists despite your efforts, it may be time to consult an allergist or doctor. They can provide a proper diagnosis and recommend treatment options tailored to your specific needs.
If you're looking for an allergy clinic in Hillsborough, NJ, Penn Medicine Becker ENT & Allergy serves areas Raritan, Martinsville, Bound Brook, Somerville, Skillman, Montgomery, Manville, or Millstone. Contact us today and schedule a consultation.