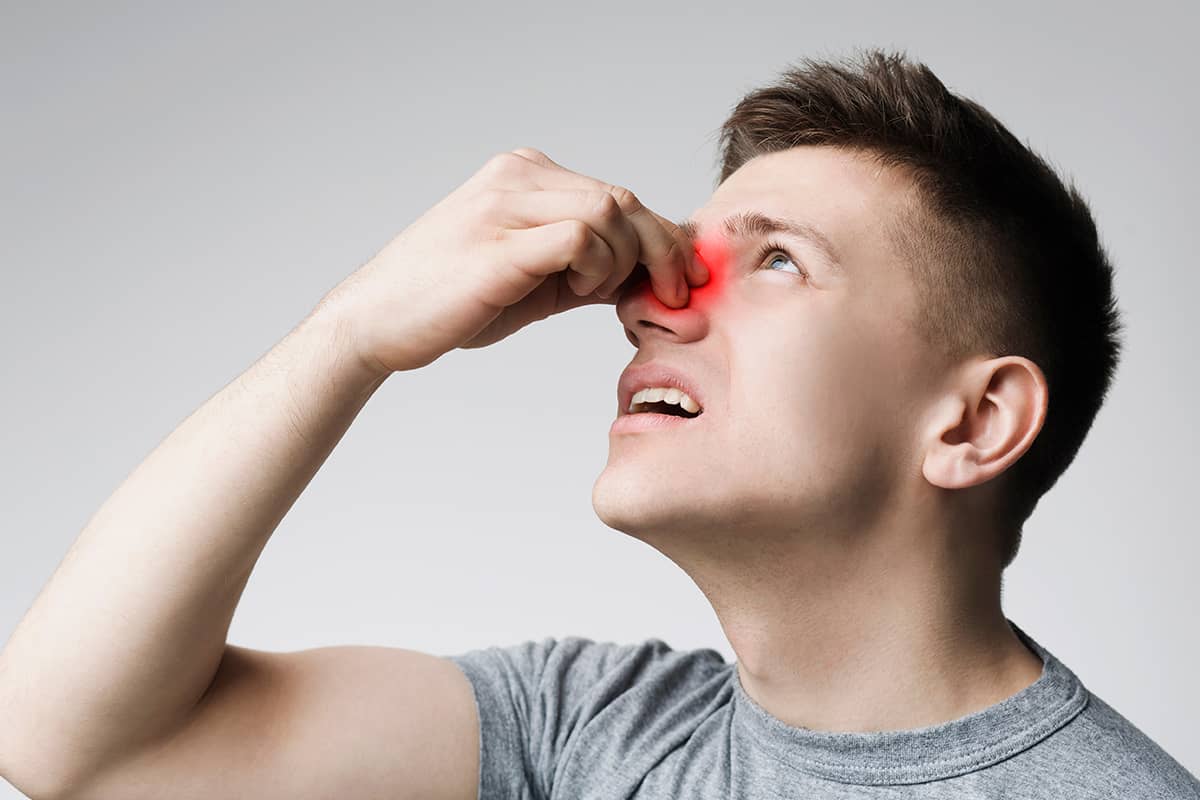 Nasal polyps are soft, noncancerous growths that develop in the nasal cavity or sinuses. They are typically small and teardrop-shaped and can cause various symptoms that affect a person's quality of life.
This article will discuss eight common symptoms associated with nasal polyps and provide suggestions on how to manage these symptoms effectively. For some people, nasal polyps may require surgical removal. Penn Medicine Becker ENT & Allergy provides a proper diagnosis for these symptoms to determine whether surgery is necessary.
1. Discomfort in the Nose and Facial Tension
One of the first symptoms of nasal polyps is discomfort in the nose or facial tension. This discomfort can be a result of the polyps themselves or the inflammation they cause in the surrounding tissue. The sensation may be described as constant pressure or aching in the face, particularly around the eyes, nose, and cheeks.
To manage this symptom, over-the-counter pain relievers such as acetaminophen or ibuprofen can be taken as directed. A warm compress applied to the affected areas may also provide some relief.
2. Chronic Congestion
Nasal polyps can cause chronic nasal congestion due to the obstruction they create in the nasal passages. These benign, soft, and painless swellings typically develop in the lining of the sinuses or nasal cavity, often as a result of inflammation. This congestion can make it difficult to breathe through the nose, leading to mouth breathing. Mouth breathing can cause further discomfort and dryness, as well as other issues like snoring and sleep disturbances.
To alleviate nasal congestion caused by nasal polyps, a variety of treatments can be employed. Nasal steroid sprays are often recommended as a first-line treatment to reduce inflammation and irritation in the nasal passages. These nasal sprays help to shrink the size of the polyps, thereby improving airflow and reducing congestion.
3. Sinus Pressure
Nasal polyps can block sinus passages, causing sinus pressure. This pressure often results in pain and discomfort in the forehead, cheeks, and around the eyes, making daily activities and rest more challenging.
Using a humidifier to maintain optimal humidity levels in your living environment can be an effective way to manage sinus pressure. Proper humidity can prevent your nasal passages from becoming too dry, which could otherwise exacerbate the symptoms. Additionally, practicing good nasal hygiene is essential for maintaining clear sinuses. Regularly using a saline nasal rinse, for example, can help to flush out any irritants, reduce pressure, and decrease the risk of sinus infections.
Over-the-counter pain relievers, such as ibuprofen or acetaminophen, can also help to alleviate the discomfort associated with sinus pressure. Decongestants may provide relief by reducing the swelling in the nasal passages and improving airflow.
4. A Feeling of Fullness or Blocking in the Sinuses
Nasal polyps can cause a sensation of fullness or blocking in the sinuses. This feeling can be particularly noticeable when trying to breathe through the nose or when lying down.
Elevating the head while sleeping can help to reduce the sensation of fullness and promote better sinus drainage. In addition, using a saline nasal rinse regularly can help to clear out any mucus or debris that may be contributing to the sensation of fullness.
5. Nasal Discharge with a Change in Color
An increase in nasal discharge, which may change color from clear to yellow or green, is another common sign of nasal polyps. This color shift could indicate an infection or inflammation in the nasal passages.
Maintaining good nasal hygiene with a daily saline nasal rinse can help to manage this symptom. Over-the-counter decongestants may also be helpful in reducing the amount of nasal drainage if you have a runny nose, but they should only be used short-term. If the discharge is persistent or accompanied by fever or facial pain, it is important to consult a healthcare professional for further evaluation and treatment.
6. Post-Nasal Drip
Post-nasal drip is a common symptom of nasal polyps, as the excess mucus produced by the inflamed tissue can drip down the back of the throat. The chronic drip can cause a persistent cough, sore throat, and a frequent need to clear the throat.
To manage post-nasal drip, over-the-counter expectorants can help to thin the mucus and make it easier to clear the throat. Staying well-hydrated by drinking plenty of water can also help to thin the mucus and reduce post-nasal drip. Prescription medications, such as corticosteroids or antihistamines, may be recommended to help manage the problem.
7. Snoring Issues
Snoring occurs when the flow of air through the mouth and nose is partially obstructed during sleep, causing the tissues in the throat and nose to vibrate, resulting in the characteristic sound of snoring.
To manage snoring that is related to nasal polyps, using a humidifier at night can help to keep the airway moist and reduce the vibration of the throat tissues. Nasal strips or external nasal dilators may also be helpful in opening up the nasal passages and reducing snoring. If snoring persists or worsens, consult the physicians at Penn Medical Becker ENT & Allergy for further evaluation and possible treatment options.
8. Decrease or Loss of Smell and Taste Sensation
The decrease or loss of smell or taste is commonly associated with nasal polyps. The inflammation and obstruction caused by the polyps can interfere with the normal function of the olfactory nerves, responsible for detecting smells. This can, in turn, affect the sense of taste, as the two senses are closely linked.
Using a saline rinse regularly can help to improve the sense of smell and taste and overall nasal health by keeping the nasal passages moist and reducing inflammation. In some cases, prescription medications, such as corticosteroids, might be prescribed. If the loss of smell and taste persists, it may be necessary to have a medical evaluation and discuss further treatment options.
If you are experiencing any of the symptoms of nasal polyps, don't wait; seek help from Becker ENT & Allergy. Our team of experienced ear, nose, and throat specialists can quickly diagnose your condition and provide you with the right treatments and advice to manage your nasal polyps symptoms. Schedule a consultation at Becker ENT & Allergy today for the highest-quality treatment!