Nasal polyps are benign, soft, and non-painful protrusions that develop on the inner lining of the nasal cavities or sinus regions. When these polyps shift or become displaced, they may lead to breathing challenges and discomfort. They can cause discomfort and difficulty breathing if they become dislodged or move out of place.
This article will provide valuable information on understanding the causes of nasal polyps becoming dislodged, strategies to minimize their movement, and treatment options for when they do become dislodged.
Understanding What Causes Nasal Polyps to Become Dislodged
Nasal polyps can become dislodged due to physical trauma, excessive nose blowing, or exposure to allergens. Additionally, changes in air pressure, dry air, or the use of certain hair styling products can also cause nasal polyps to move out of place.
The specialists at Penn Medicine Becker ENT & Allergy educate their patients on how to minimize the risk of nasal polyps becoming dislodged. Their board-certified physicians can surgically remove nasal polyps or effectively treat the symptoms of nasal polyps.
Developing Strategies to Minimize Movement of the Nasal Polyps
There are several strategies that can help prevent nasal polyps from getting dislodged. These include monitoring air pressure, practicing proper hand hygiene, allergen avoidance, using saline solutions, and more. Implementing these strategies in your daily routine can help keep your nasal polyps in place and reduce discomfort.
Monitoring Air Pressure in Your House and Workplace
Changes in air pressure, such as those caused by weather changes or changes in altitude, can cause nasal polyps to become dislodged. To minimize this risk, use a barometer to monitor the air pressure in your home and workplace. Ensure that the air pressure remains stable and avoid sudden changes in altitude, such as traveling to high elevations or flying in an airplane.
Properly Practice Hand Hygiene After Touching the Face or Nose to Avoid Nasal Polyps from Dislodging
Touching your face or nose can transfer bacteria and other irritants that can cause nasal polyps to become dislodged. To minimize this risk, practice proper hand hygiene by washing your hands regularly with soap and water, especially after touching your face, nose, or other surfaces that may harbor bacteria. This will help reduce the likelihood of nasal polyps dislodging due to contamination or irritation.
Allergen Avoidance Tips for Keeping Nasal Polyps from Dislodging
Exposure to allergens, such as pollen, dust mites, and pet dander, can cause nasal polyps to become dislodged. To minimize this risk, take the following allergen avoidance measures:
Use air purifiers with HEPA filters in your home and workplace to reduce airborne allergens
Regularly clean and vacuum your living and working spaces to remove allergens from surfaces
Use allergy-proof bedding and pillow covers to minimize exposure to allergens while sleeping
Keep pets out of your bedroom and off furniture to reduce pet dander
Shower and change clothes after spending time outdoors during pollen season to remove pollen from your body and clothing
Using a Saline Solution to Keep Nasal Polyps From Moving Out of Place
Using a saline solution can help keep nasal polyps in place by keeping the nasal passages moist and reducing inflammation. You can use a saline nasal spray or a saline rinse, such as a neti pot, to gently irrigate your nasal passages. This can help remove irritants and allergens, reduce inflammation, and prevent nasal polyps from dislodging. Be sure to use distilled or sterile water when using a saline rinse to avoid introducing bacteria or other contaminants into your nasal passages.
Tips for Reducing Pressure Around the Nose and Sinuses
Reducing pressure around the nose and sinuses can help prevent nasal polyps from becoming dislodged. Here are some tips to help minimize pressure:
Avoid blowing your nose forcefully, as this can cause pressure changes and dislodge nasal polyps. Instead, gently blow your nose or use a tissue to dab at any nasal discharge.
Avoid activities that cause sudden pressure changes in the nasal passages, such as diving or flying without proper precautions. If you must fly, consider using a nasal decongestant spray or oral decongestant to help minimize pressure changes.
Practice relaxation techniques, such as deep breathing and meditation, to reduce stress and tension in the facial muscles. This can help minimize pressure around the nose and sinuses and prevent nasal polyps from dislodging.
Being Careful with Hair Styling Products
Certain hair stylings products, such as hairspray or gel, can cause nasal polyps to become dislodged if they come into contact with the nasal passages. To minimize this risk, be cautious when applying these products, and avoid spraying them near your nose. Use a barrier, such as a tissue or a hand, to shield your nose while applying hair styling products. Additionally, opt for fragrance-free and hypoallergenic products to reduce the risk of irritation and nasal polyp dislodgement.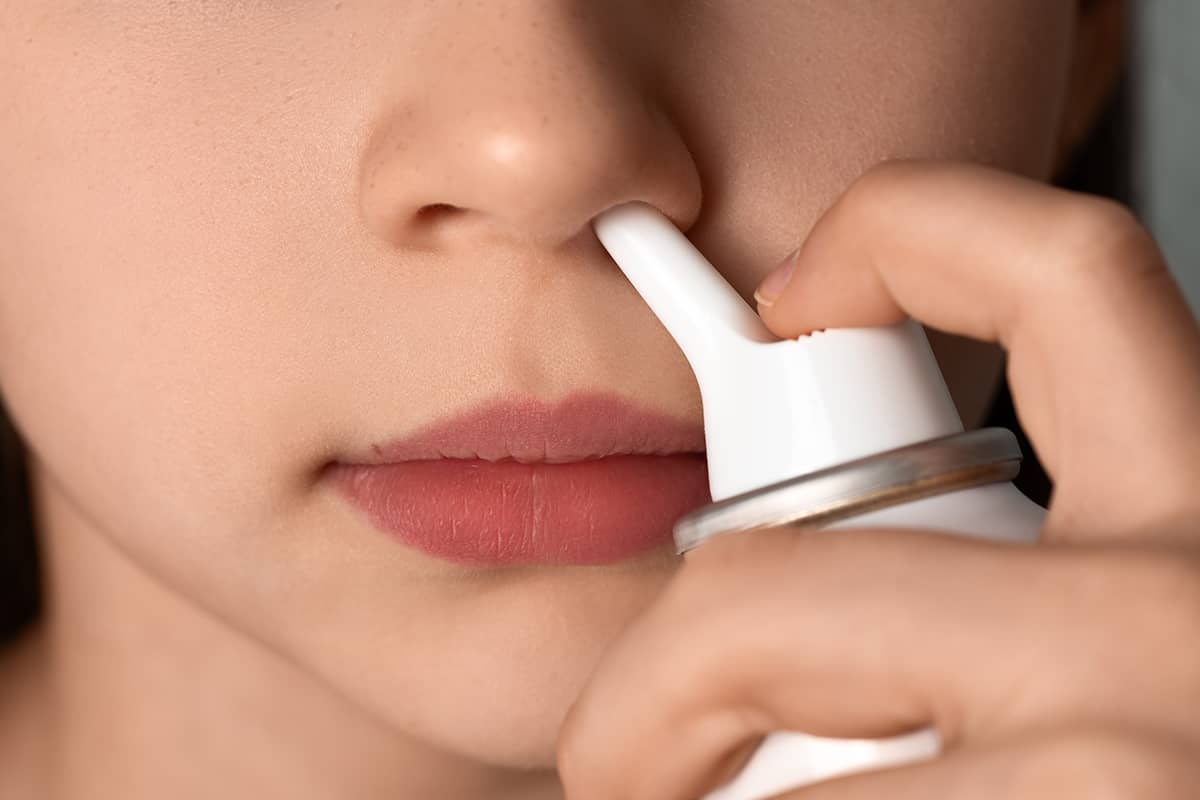 Keeping the Nose Moist through Regular Use of Saline Sprays
Regular use of saline sprays can help maintain moisture in the nasal passages and reduce inflammation to help prevent nasal polyps from becoming dislodged. Choose a saline spray that is isotonic, meaning it has a similar salt concentration to your body's natural fluids so that it does not cause irritation or dryness in your nasal passages. Use the saline spray as directed, typically two to three times per day.
Eating Foods with Anti-inflammatory Properties
Incorporating foods with anti-inflammatory properties into your diet can help reduce inflammation in the nasal passages and prevent nasal polyps from becoming dislodged. Some examples of anti-inflammatory foods include:
Fatty fish, such as salmon, mackerel, and sardines, are rich in omega-3 fatty acids
Leafy greens, such as spinach, kale, and collard greens contain high levels of antioxidants and vitamin K
Berries, such as blueberries, strawberries, and raspberries are packed with antioxidants
Nuts, such as almonds and walnuts, are high in healthy fats and vitamin E
Olive oil contains heart-healthy monounsaturated fats and antioxidants
Treatment Options for When Nasal Polyps Become Dislodged
If your nasal polyps do become dislodged, it's essential to seek medical attention to assess the situation and determine the appropriate treatment. Some treatment options for dislodged nasal polyps may include:
Nasal corticosteroid spray: These can help reduce inflammation and shrink the size of the polyps, potentially allowing them to reposition themselves naturally.
Oral corticosteroids: In more severe cases, your doctor may prescribe an oral corticosteroid to help reduce inflammation and shrink the polyps.
Surgery: If conservative treatments are not effective, your doctor may recommend surgical removal of the dislodged nasal polyps. This is an endoscopic surgery, a minimally invasive procedure that removes the polyps using a small camera and specialized instruments.
Penn Medicine Becker ENT & Allergy provides comprehensive care for polyps and other issues that impair proper nasal function. Our physicians diagnose and create personalized plans to treat the underlying cause of the problem.