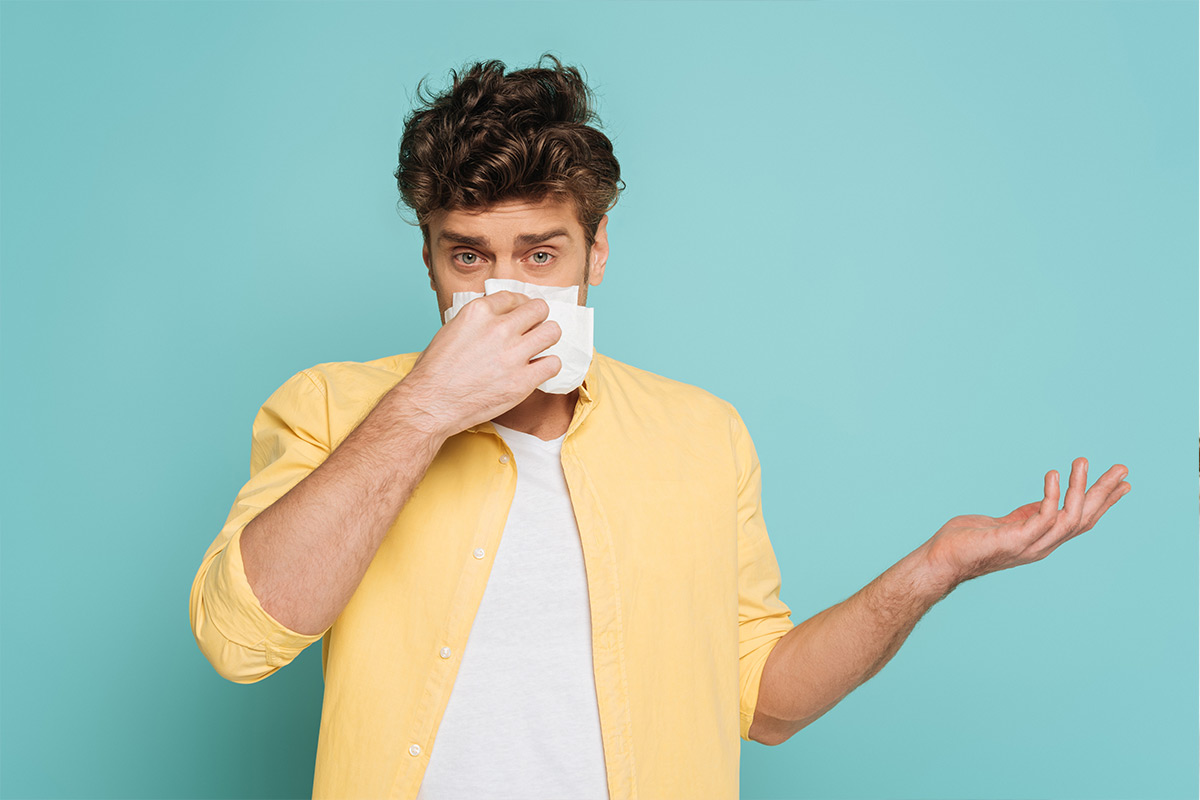 "Is this a sign of allergies or a bad cold?" This is a common question, particularly during the spring allergy season or the winter months when colds are prevalent. These two health conditions, while sharing common symptoms such as nasal congestion, sneezing, and fatigue, are fundamentally different in their causes and treatment options.
Allergies, often seasonal, are your body's overreaction to harmless environmental allergens like tree pollen or dust mites. On the other hand, a cold is a viral illness, often caused by the rhinovirus, that puts your body into defense mode to fight off the infection. It is very important to understand the main differences between having an allergy versus a cold.
Whether you're an allergy sufferer dreading the daily pollen forecast or an adult battling a cold, recognizing the telltale signs of each condition can lead to a more accurate diagnosis and effective treatment plan.
What is the Difference Between Allergies and a Cold?
Colds and seasonal allergies are two different diseases. A cold is an infection caused by a virus, whereas seasonal allergies, also known as hay fever or allergic rhinitis, are immune system responses triggered by exposure to allergens, such as seasonal tree or grass pollens.
Treatment for these conditions also differs. Typical treatments for a cold include rest, pain relievers, and over-the-counter cold remedies like decongestants. These typically last 5-7 days in adults, but some may persist for up to two or three weeks.
On the other hand, seasonal allergies can be managed with antihistamines, nasal steroid sprays, decongestants, and avoiding exposure to the allergens. In some cases, immunotherapy might be recommended. Unlike colds, seasonal allergies may last several weeks, or as long as exposure to the allergen continues.
The Similarities Between Them
Allergies and colds share some common symptoms, often leading to confusion and misdiagnosis. These shared symptoms can include nasal congestion, a runny or stuffy nose, frequent sneezing, and fatigue. In some cases, people with allergies may also have an itchy nose or throat, a symptom not typically associated with a common cold. During allergy season, these symptoms might worsen, resulting in an allergy flare-up.
However, there are also key differences in symptoms that can help distinguish between the two conditions. For instance, a sign of allergies could be the persistence of symptoms beyond the typical duration of a cold, which is usually around a week. Allergy symptoms, on the other hand, can last for weeks or even months, especially if the individual remains in contact with allergy triggers. Another difference between allergies and colds is the presence of a fever.
Common Symptoms of Allergies
Allergies, particularly seasonal allergies, often manifest with a distinct set of symptoms that primarily affect the nose, throat, and eyes. These symptoms of allergies can include itchy or watery eyes, a runny or stuffy nose – a sign of the body's reaction to the allergen in question. Sneezing, another common allergy symptom, is a reflex action of the body to expel the allergens from the nasal passages.
Allergies may also result in unique symptoms like dark under-eye circles, caused by congestion in the nose and sinuses. Shiners are a telltale sign of allergies, especially during the spring allergy season. These symptoms are not commonly associated with a cold, marking a key difference between allergies and colds.
Common Symptoms of a Cold
While colds can cause symptoms similar to allergies such as a runny or stuffy nose and sneezing, they also often cause a sore throat, mild headache, and low-grade fever. These symptoms are not usually seen with allergies.
Colds may cause body aches, a symptom often associated with viral infections but not with allergies. Allergies often produce clear, watery mucus, while a cold or other viral illness may result in thicker yellow or green mucus.
Colds and flu, which are respiratory infections, rarely last beyond two weeks. If symptoms persist beyond 10 days or are not relieved by over-the-counter cold medications, it is recommended to consult a healthcare provider.
Causes of Allergies
Allergies, particularly seasonal allergies, are triggered by an overactive immune system. When your body encounters an allergen, a substance it mistakenly identifies as harmful, it goes into defense mode. It responds by releasing chemicals like histamine to protect itself, which triggers the symptoms of an allergic reaction. Allergens that frequently cause allergic reactions include pollen, dust mites, mold, animal dander, and certain food items.
Environmental allergens, such as tree pollen and weed pollen, are particularly problematic during allergy season, causing many people with allergies to experience an allergy flare-up. For example, if someone is allergic to pollen, their immune system will incorrectly identify the pollen as a threat. In response, the immune system overreacts and produces Immunoglobulin E (IgE) antibodies. The IgE antibodies signal cells to release histamine and other chemicals, which leads to an allergic response. When someone has an allergic reaction, they may experience symptoms in their nose, lungs, throat, sinuses, ears, stomach lining, or skin.
These symptoms of allergies, often mistaken as a sign of a common cold, can include a runny or stuffy nose, sneezing, and itchy or watery eyes. In severe allergies, the body mistakes harmless things like pollen or dust mites as dangerous invaders, leading to an allergy attack.
Causes of a Cold
Colds, in contrast to allergies, are the result of a viral infection. A myriad of over 200 different types of viruses can be the cause of a common cold, with the rhinovirus being the most frequent offender. These cold viruses are highly contagious and can be transmitted from one individual to another through airborne virus droplets, close personal contact, or even by touching a surface contaminated by the virus.
When you're suffering from a cold, the symptoms you're experiencing, such as a runny or stuffy nose, body aches, or a mild body ache, are a direct result of your body's immune response to the viral infection. For instance, nasal congestion or a runny nose is your body's defense mechanism in action, attempting to trap the cold virus and expel it from your system through the nasal passages.
At Penn Medicine Becker ENT & Allergy, we offer comprehensive services to help our patients manage both colds and allergies all types of allergies. If you're looking for an allergy clinic in Princeton or Kingston, NJ, we are ready to assist patients with top-tier care. Don't let allergies or colds keep you from living the best life you can, contact us today and schedule a consultation.