Pediatric Snoring & Sleep
Concerned about your child's snoring and sleep health? Turn to Penn Medicine Becker ENT & Allergy Center. Serving New Jersey and Pennsylvania, we provide evidence-based treatments for pediatric sleep disorders, ensuring a healthier night's sleep for your child.
Benefits of Pediatric Snoring Treatments
Sleep disorders in children not only affect their rest but also their growth, development, and daily activities. Prioritizing their sleep health through specialized treatments can make a world of difference.
Improved Cognitive Development
Treatments pave the way for enhanced focus, memory, and learning abilities in children.
Boosted Daytime Energy
Daytime sleepiness is a common symptom of sleep disorders. After treatment, ensure your child is alert, active, and ready to embrace the day, free from the fatigue of restless sleep.
Healthier Emotional Balance
Proper sleep reduces irritability and mood swings, fostering a happier, more balanced child. Mental health in children can be strongly influenced by their sleep patterns.
Asking "How to stop snoring in your sleep" is a common question for adults since 45% of adults snore occasionally, and 25% snore regularly. However, Pediatric Snoring is also a common problem that affects many children, labeled as sleep in children. It is estimated that 10% of children snore regularly. For many, this isn't an issue; but 2-4% of children have obstructive sleep apnea, a potentially dangerous condition that can lead to serious health problems down the road.
Why Does My Child Snore?
To understand what causes snoring in kids, it's important to know that snoring itself is just the result of the flow of air obstruction in the nose and mouth. Breathing during sleep is interrupted when there's a blockage, often causing frequent snoring. This is typically caused by a relaxation of the throat tissues, causing the tongue, uvula, and soft palate to vibrate together when your child breathes. This could be due to obesity, making an overweight child more prone to snoring, abnormalities of the jaw and tongue, or neuromuscular disorders. Additionally, enlarged tonsils or nasal allergies can also cause difficulties, leading to difficulties during sleep.
Snoring is a concern because a good night's sleep is essential for your child's growth and development. Daytime fatigue can lead to learning issues and has been associated with attention deficit disorders in some children. Children who snore can become irritable and moody and are at risk for health issues, including diabetes, high blood pressure, heart disease, and lung disorders. Other health risks include increased urine production at night, which often results in bedwetting. Plus, there is the social stigma, when your child has to share sleeping quarters with siblings or friends.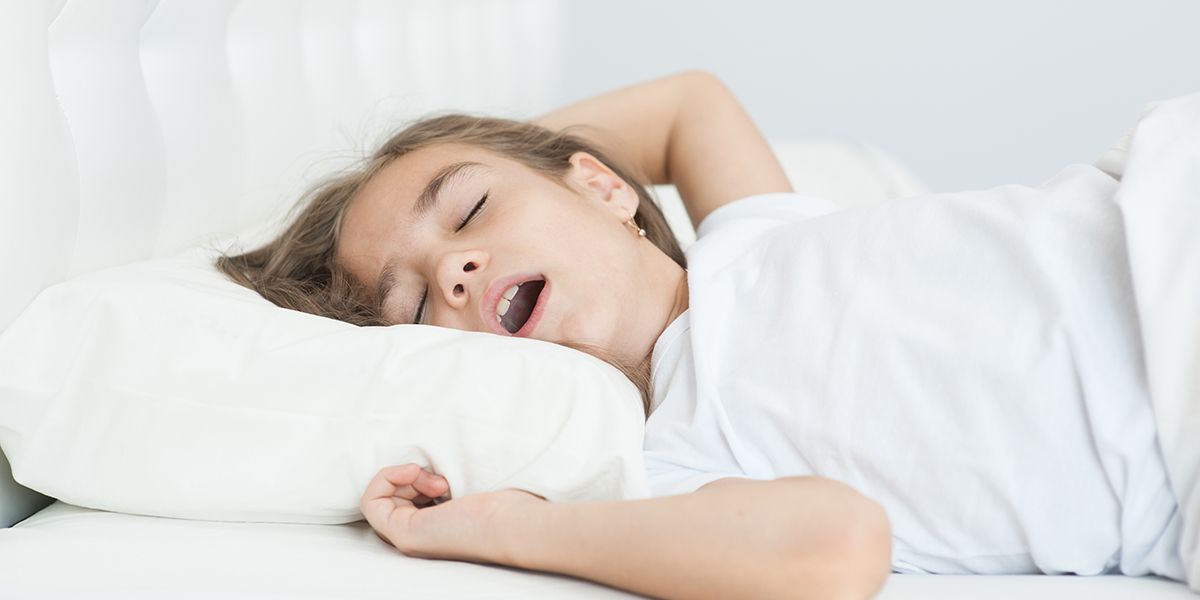 Snoring isn't always a sign of a serious condition, but if your child exhibits loud snoring on a regular basis, especially in conjunction with gasping for breath, thrashing around in bed, and other symptoms like aggressive behavior, it's best to schedule an appointment with a sleep specialist or doctor who specializes in sleep disorders.
Is Snoring in Children Dangerous?
While many associate snoring predominantly with adults, it's also something that children experience. Light snoring from time to time might not raise any red flags, but regular or loud snoring could point to deeper issues like a respiratory infection or other risk factors. Conditions like obstructive sleep apnea (OSA) can seriously affect a child's overall health and development.
Health Consequences
Brain Development and Academic Performance
Cardiovascular Health and Metabolism
Behavioral and Emotional Impacts
Conditions like OSA and habitual snoring can pose substantial risks to a child's health. Studies have shown that kids suffering from OSA might encounter challenges in brain development, see a dip in their school grades, and even exhibit behavioral changes. OSA can disrupt the deep, rejuvenating sleep crucial for the brain's optimal performance. Parents should be on the lookout for signs of sleep in children that deviate from the norm.
A good night's sleep plays a pivotal role in memory retention, cognitive enhancement, and learning. When a child's sleep is disrupted by issues like snoring or OSA, it can compromise these essential functions. This can manifest in problems with focusing, retaining information, and overall mental sharpness.
There's evidence to suggest that snoring and OSA can contribute to cardiovascular issues in children, such as elevated blood pressure. The inconsistent breathing during sleep can put added stress on the heart and lead to fluctuations in blood oxygen levels. Additionally, issues related to sleep can interfere with metabolism, possibly leading to weight challenges and associated health concerns.
Sleep issues in children, like chronic snoring or untreated OSA, can lead to moodiness, unpredictable behavior, and attention challenges. Symptoms might include hyperactivity, impulsiveness, and attention lapses. In some cases, the behavioral symptoms might even mimic those of attention deficit hyperactivity disorder (ADHD).
How is Snoring Treated?
The most serious type of snoring is obstructive sleep apnea. This is marked by gaps in breathing that may last for 30 seconds or more. This can lead to daytime fatigue, learning difficulties, and health problems as described above. In addition, obstructive sleep apnea can limit growth, since the act of breathing burns an excess number of calories, even during sleep.
Snoring in children is often the result of overgrown tonsils and adenoids. If this is the case, surgical removal can often restore normal airflow. This is generally recommended only in severe cases; your child's doctor may take a wait-and-see approach if symptoms are minor. Other treatment options include weight loss or the use of Continuous Positive Airway Pressure (CPAP) devices, which utilize air pressure to keep the air passage open, or mouth guards.
If snoring persists, it's advisable to consult a health provider to ensure the well-being of your child. Contact our telemedicine doctor.
Frequently Asked Questions about Pediatric Snoring & Sleep