Allergists in Lawrenceville, NJ(Allergy Doctors)
Allergies are quite common among Lawrenceville, NJ residents, but that doesn't mean they are harmless. Depending on the nature of the allergy, they can cause chronic discomfort or even become life-threatening. Allergies left untreated can cause various issues such as infections, chronic fatigue, and more.
Penn Medicine Becker ENT & Allergy in Lawrenceville is staffed with a full team of compassionate, skilled allergists and immunologists. These specialists can help you through all the stages of immunology, from diagnosing your allergies to finding a solution that helps you take control of your life.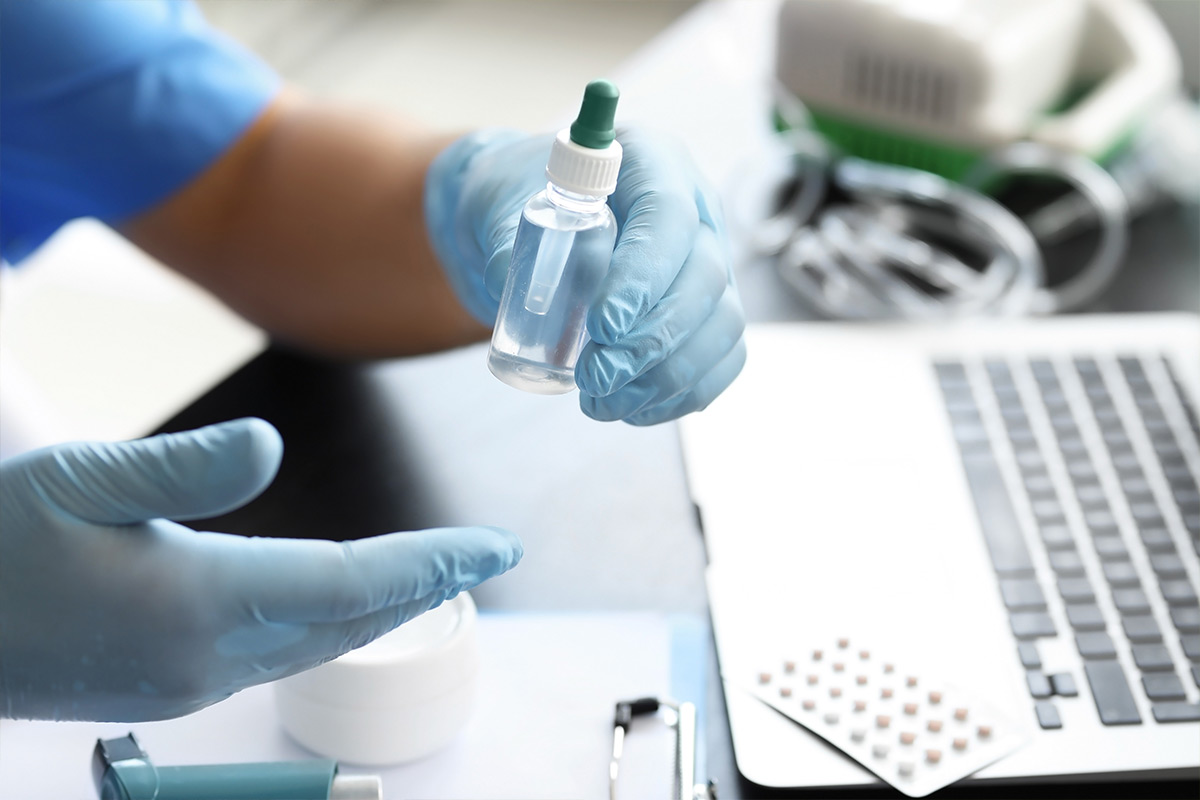 What is an Allergist?
An allergist is a medical specialist specializing in diagnosing and treating allergies and immunology. They use a combination of laboratory tests, physical exams, skin tests, and other methods to assess patients' allergic reactions and develop individualized treatment plans. An Allergy & Immunology specialist can help manage many types of allergies, including seasonal allergies, food allergies, asthma, and more.
What Is Allergy and Immunology Care?
Lawrenceville allergy and immunology care at Becker ENT is a collective group of services that pertain to the immune system. An immunologist is a person who has studied the immune system and related abnormalities, such as allergies and autoimmune disorders.
An allergy is a condition that occurs when a person's immune system mistakes a benign substance for an invader or intruder. The body then sends signals to release histamine to fight off the alleged intruder, causing an allergic reaction.
Allergy sufferers experience an array of symptoms that come from the immune system's reaction. These can include a runny nose, congestion, itchy eyes, rashes, breathing problems, and more. Allergy symptoms can be minor annoyances for some people, but they can also be more severe, causing daily discomfort or even life-threatening symptoms, such as anaphylaxis.
If you or your child are experiencing symptoms, it's crucial to visit an immunologist in Lawrenceville to receive an evaluation for possible allergies and asthma. Getting a clear-cut diagnosis is the first step toward managing your condition. Our immunologists are dedicated to helping you treat your allergies so that you can lead a healthier and happier life.
What Types of Allergies Can an Immunologist Treat?
At Becker ENT & Allergy, our allergists and immunologists specialize in the care of children, adults, and elderly individuals with all types of allergies. Our team is knowledgeable in diagnosing and treating allergies to common allergens such as dust, pollen, pet dander, mold, food, allergy-related skin rashes, and medicines. We also provide comprehensive allergy relief for people suffering from severe allergic reactions or life-threatening anaphylaxis. Our goal is to provide accurate diagnosis and safe allergy relief for patients so they can live more comfortably.
Allergists can also work with people who have allergic rhinitis or allergic asthma. Allergic asthma is a condition that causes an individual to have asthma attacks when exposed to allergens. A person with allergic asthma will need to come in for an evaluation to determine which elements trigger such severe allergic responses.
How Are Allergies Diagnosed?
An allergy doctor in Lawrenceville may use a variety of methods to diagnose allergies. First, they will need to get an idea of a patient's history and some of the details surrounding the allergic reactions. Once they understand what might be causing the allergic reactions, they can begin the testing process.
One common test that allergy specialists use in immunology is the skin prick test. The allergy specialist applies a panel of known allergens to a new patient's skin. The panel of allergens usually includes environmental substances such as ragweed, grass, dust mites, mold, pet dander, and other common allergens.
Using a small needle tool, the allergist will prick the skin slightly to apply the allergen samples. The patient then waits for 15 minutes to see if the allergens cause a reaction. The allergist then analyzes the reactions and notes the items that cause an obvious problem.
The allergist may provide the patient with an antihistamine cream afterward to diminish the appearance of wheals and welts. In extreme cases, the patient may need an inhaler or a shot to stop the symptoms from progressing.
Doctors can also use a skin prick test to detect food allergies. It's likely that they will perform the prick test for food allergies if the individual mentions experiencing symptoms after ingesting certain items.
What Are the Treatment Methods?
Immunology involves a variety of treatment methods. The choice of treatment depends on how severe the allergy is and whether the patient is looking for short-term or long-term relief. For example, one might manage a mild allergy by avoiding the allergen altogether.
It's fairly easy to avoid ragweed if the patient knows where it grows and which times of the year are worst for allergic reactions. A dust mite allergy may need a more strategic solution, however, because dust mites are found everywhere throughout the year. That situation may need next-level treatment.
The allergy doctor can prescribe a variety of allergy pills that can stop the release of histamines. They can also offer the patient steroid nasal sprays or inhalers for allergic rhinitis and allergic asthma. Many people manage their allergies by using a mixture of avoidance practices and taking medications that control immune responses.
Another type of treatment that one may receive for immunology issues is a regimen of allergy shots. Allergy shots represent a form of exposure treatment. The idea is to introduce small amounts of the allergen to the body regularly and increase the amounts over time.
With regular treatments, the immune system is expected to stop reacting to the allergen so much once it becomes used to it. Although they can't always eliminate allergic reactions entirely, allergy shots have been successful for many people in the past.
The Importance of Finding the Right Allergist
Finding an allergist in Lawrenceville who is knowledgeable and experienced in allergy and immunology is essential for managing allergies. An allergist will have a medical degree and be up-to-date on the latest treatments and medications for allergic reactions. They should also be able to review a patient's medical history to create the most effective care plan. The allergist should work with the patient to determine which allergens they are sensitive to, what triggers their allergic reactions, and how to best manage them. Additionally, an experienced allergist can help develop strategies such as avoidance techniques or desensitization treatments that can help reduce the effects of allergies.
Your First Visit to the Allergy Doctor
Your first visit is also called a consultation. It's when you will get to meet your Lawrenceville allergist for the first time and discuss the problems you face. They will work with you to ensure that you get a productive and effective solution that can help to ease your struggles with allergies.
At your first visit to the allergist in Lawrenceville, you can expect a thorough evaluation of your allergy symptoms. The doctor will take your vital signs and ask questions about your medical history. Depending on the severity of your allergies, they may be able to provide a same-day appointment for further testing and diagnosis. This is an important step to ensure that the most appropriate treatment plan is tailored to meet your needs and provide relief for your allergy symptoms.
The Cost for Allergy and Immunology in Lawrenceville
The cost of allergy treatment varies for each facility and procedure. This location accepts medical insurance, credit and debit cards, checks, and third-party financing. You can discuss the costs with the allergy specialist before you begin treatment.
Allergy Treatment FAQs
Here are some common questions that people have about allergy treatment in Lawrenceville, NJ:
Does the prick test hurt?
The prick test may cause minor discomfort, but it usually does not hurt. During the evaluation of allergy symptoms, the doctor will use a small needle to insert a tiny amount of allergen into the skin on your arm or back. Depending on the severity of your allergies, you may experience some minor pain from the injection. However, this discomfort is typically minor and should subside quickly.
Do allergy shots hurt?
All injections may cause minor pain when the doctor inserts the needle and potentially arm soreness afterward. There may also be some discomfort after the first few shots because they contain known allergens. 
Your allergist will work with you to help minimize any discomfort the procedure may cause. Most people feel that the minor discomfort caused by allergy shots is worth the benefits of long-term allergy symptom management, however. 
How long will I have to get allergy shots?
The time it takes for allergy shot therapy to show full effectiveness can vary from one person to another. Most allergy shot regimens take three to five years to eliminate allergic reactions for patients. The success rate for allergy shots is currently 75 to 85 percent.
Will I be given an EpiPen?
Your allergy specialist may prescribe you an EpiPen if testing concludes that you have a high chance of reacting to an allergen with anaphylaxis. In that case, you will receive an EpiPen for your safety, should a life-threatening reaction occur.
Directions to Penn Medicine Becker ENT & Allergy in Lawrenceville
The facility is located at 168 Franklin Corner Road, Suite 120, Lawrence Township, NJ 08648. The phone number is 609-354-7379.
Directions From the Quakerbridge Mall
Take US 1 South towards I-295 for .6 miles.
Merge onto I-295N, toward I-95 S/Philadelphia, and then drive for 1.2 miles.
Take exit 68B toward Trenton and then drive for .2 miles.
Merge onto Princeton Pike and then drive for .2 miles.
Turn left onto Princess Road and then drive for .1 miles.
Turn left into the parking lot.
Directions From the Main Street Historic District
Head northeast on US-206 North and then drive 1.3 miles.
Make a slight right toward Fackler Road and then continue for .8 miles.
Turn right onto Princeton Pike and then travel for 1.4 miles.
Keep left to stay on Princeton Pike and drive for .3 miles.
Turn left onto Princess Road and drive for .1 miles.
Turn left into the parking lot.
Schedule an Appointment Today
Now is the time to end your years of suffering from allergies. Contact us by telephone (609-303-5163) or our online contact form to schedule a consultation and begin your allergy treatment in Lawrenceville, NJ.