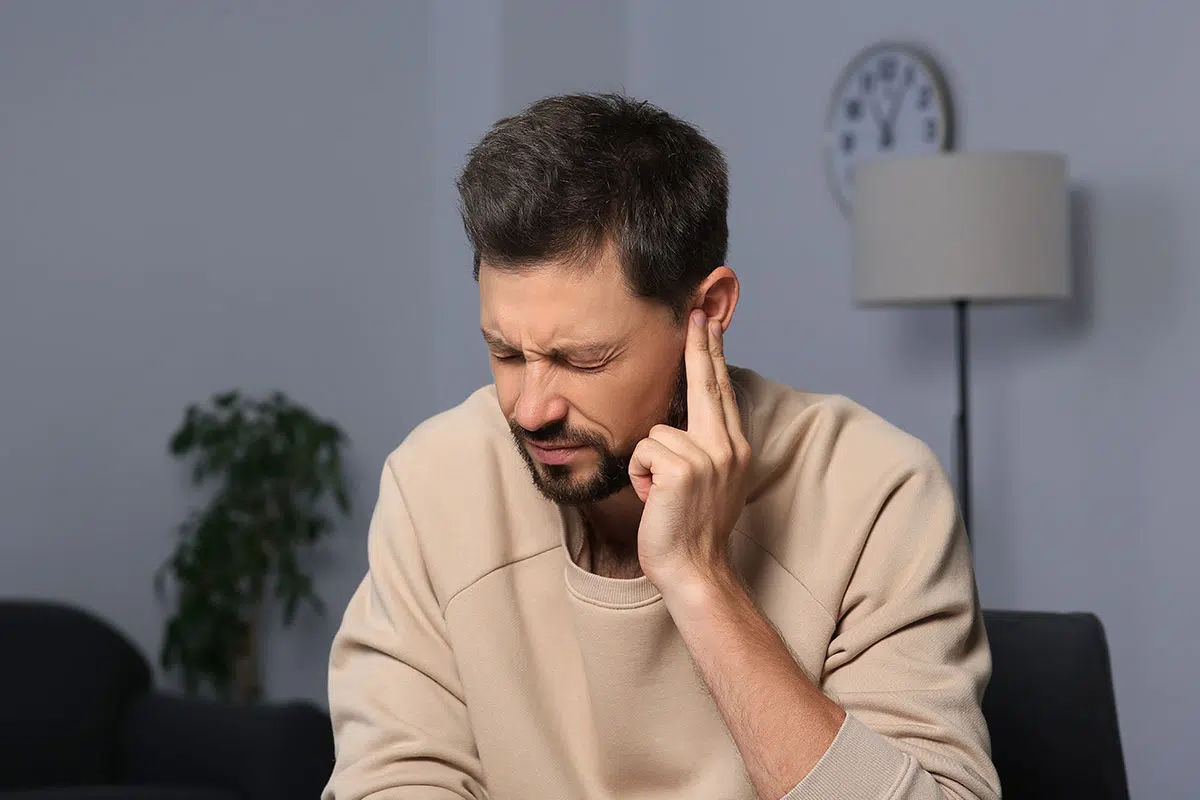 Experiencing ear pain can be quite distressing and can interfere with daily activities. A common question these patients have is whether allergies can cause their ear pain.
The answer is yes – allergies can contribute to ear pain and infections. The condition is caused by an inflammatory response triggered by allergies, leading to fluid buildup and increased pressure in the sinuses and ear canals.
This article will delve into how allergies impact the ears, the connection between ear infections and allergies, and how to effectively treat ear pain from allergies.
How Allergies Impact the Ears
Allergies are an immune response to substances that are typically harmless, such as pollen, dust mites, or pet dander. When a person who is allergic to these substances comes into contact with them, their body reacts by releasing chemicals like histamine, causing an allergic response. This response often includes symptoms like a runny or stuffy nose, sneezing, and itchy or watery eyes.
However, what many people do not realize is that allergies can also impact the ears. In the case of nasal allergies, the inflammation and fluid buildup in the sinuses can exert increased pressure on the Eustachian tubes, which connect the middle ear to the back of the nose. These tubes help regulate air pressure and drain fluid from the middle ear. When they become inflamed due to allergies, it can result in a feeling of fullness or pain in the ear, reduced hearing, and even balance issues.
Can Allergies Cause Ear Wax Buildup?
While allergies primarily cause inflammation and fluid buildup, they can also indirectly contribute to an increase in ear wax production. In response to the inflammation caused by allergies, the body may produce more wax to protect the ear canal. This can lead to a buildup of wax, which, if not properly cleaned, can exacerbate the feeling of fullness and discomfort in the ear. It is important to clean the ears gently and avoid pushing the wax deeper into the ear canal, which can lead to blockage and further discomfort.
Cleaning the ears should be done gently and carefully to avoid pushing the wax deeper into the ear canal, a common mistake that can lead to blockage and further discomfort. This blockage can also create a perfect environment for bacteria to thrive, increasing the risk of an ear infection from allergies. It's important to note that over-cleaning the ears can strip them of natural oils, leading to dryness and irritation.
It's recommended to consult with a healthcare provider or an allergy specialist for proper guidance on ear care. They can provide personalized treatment plans and allergy management strategies, including the use of over-the-counter medication or prescription ear drops, to help alleviate the discomfort caused by allergies.
What Allergens in New Jersey Can Lead to Ear Pain?
New Jersey is home to a wide variety of allergens that can potentially lead to ear pain. Pollen from trees, grasses, and weeds is a common allergen that can cause an allergic reaction, leading to inflammation and fluid buildup in the sinuses and ear canals. Dust mites, pet dander, and mold spores are other common allergens that can trigger similar responses.
New Jersey has high pollen counts during the spring and fall seasons, which can exacerbate allergy symptoms and lead to ear pain. In addition, indoor allergens like dust mites and pet dander can be a year-round problem, especially in homes with pets or in damp environments conducive to mold growth.
Allergies and Ear Infections
Allergies cause discomfort and inflammation and can increase the risk of developing an ear infection. The fluid buildup caused by allergies can create a perfect environment for bacteria and viruses to grow in the middle ear, leading to an infection. Symptoms of an ear infection caused by allergies may include swelling, redness, drainage, a feeling of fullness, pain, reduced hearing, and fever.
According to a study published in The Journal of Allergy and Clinical Immunology, there is a significant association between allergies and middle ear infections, particularly in children. The research suggests that allergies may contribute to the development of chronic and recurrent ear infections by causing Eustachian tube dysfunction and promoting bacterial growth.
Finding Relief: How to Treat Allergy-Related Ear Pain
The first step in treating ear pain caused by allergies is identifying and avoiding the allergens that trigger the allergic response. This may include staying indoors on high pollen count days, using air purifiers to reduce indoor allergens, or avoiding pets if you're allergic to animal dander.
Over-the-counter allergy medications, such as antihistamines and decongestant tablets, can help reduce the allergic response and alleviate symptoms. Nasal corticosteroid sprays can also effectively reduce inflammation and fluid buildup in the sinuses and ear canals.
When ear pain persists despite these measures, or if ear infections are frequent, it may be necessary to seek medical care. A qualified healthcare provider can perform allergy tests to identify specific allergens and may recommend immunotherapy, a long-term solution that involves regular injections or tablets to gradually desensitize the body to the allergens.
The team at Penn Medicine Becker ENT & Allergy offers comprehensive care for allergies and ear infections, providing personalized treatment plans based on each patient's specific needs and symptoms.
Allergy Treatments In New Jersey
When allergies cause ear pain, it's essential to seek professional medical assistance to alleviate the discomfort and prevent complications such as ear infections. In New Jersey, residents of Hillsborough, Skillman, Raritan, Martinsville, Somerville, Montgomery, and Manville can find comprehensive allergy treatments at Penn Medicine Becker ENT & Allergy.
The team of allergy experts at Penn Medicine Becker ENT & Allergy provide a range of services to manage allergies and their symptoms. People with allergies can receive allergy tests to identify specific allergens, allergy shots (immunotherapy) to help desensitize the body to allergens, and medications to control allergy symptoms and reduce inflammation.
In addition to these treatments, the team at Penn Medicine Becker ENT & Allergy educates their patients to help them prevent allergic reactions and the associated ear pain. These strategies may involve changes in the home environment, such as using air purifiers or maintaining a clean house to reduce exposure to indoor allergens like dust mites and pet dander.
Managing allergies is a long-term commitment that involves avoiding allergens, taking prescribed medications, and adhering to the treatment plan set by your healthcare provider. With the right approach, you can effectively manage your allergies and prevent ear pain and other associated symptoms.