ENT DOCTOR IN MT. LAUREL, NJ
Allergies and problems with your ears, nose, and throat are frequently linked. For this reason, allergy symptoms typically affect these areas of the body, causing symptoms like sneezing, coughing, and congestion. Our team of ENT specialists in Mt. Laurel, NJ, addresses all known allergies as well as a wide range of problems not related to allergies that can affect your ears, nose, and/or throat.
Each of our specialists at Penn Medicine Becker ENT and Allergy is an expert in his or her field. From Daniel G. Becker, MD, the founder of our clinics, to head and neck surgeon Gileno Fonseca, MD, and Andrea Farwell, NP who staff our Mt. Laurel location, we have a specialist to meet your individual needs.
How to reach us
Address and hours of operation
These hours are based on the provider's schedules and are subject to change. Please call the office to confirm the hours. It is also a good idea to call the office to confirm your appointment a few days in advance to ensure that the clinic will still be open when you arrive. (Pre-check-in procedures are in place due to the COVID virus and its many variants. Unless otherwise instructed to do so, please wear a mask.)
If the appointment is for someone other than yourself (e.g., a child or other dependent of yours), we can help. The first necessary step is that call to our ENT office in Mt. Laurel, NJ. You can also schedule an online appointment via our online scheduling tool. We hope to see you soon!
Address
5000 Dearborn Circle, Suite 100
Mt Laurel, NJ 08054
Note: Our office is located in the Kiwi Building.
Phone: 856-724-4031
Fax: 609-949-5941
Hours of operation
| | |
| --- | --- |
| Monday | 8:00 AM – 6:00 PM |
| Tuesday | 7:30 AM – 6:00 PM |
| Wednesday | 8:00 AM – 6:00 PM |
| Thursday | 7:30 AM – 4:30 PM |
| Friday | 7:30 AM – 3:00 PM |
| Saturday | Closed |
| Sunday | Closed |
ENT Services at Penn Medicine Becker ENT and Allergy in Mt. Laurel, NJ
Penn Medicine Becker ENT and Allergy specialize in:
Directions
Get directions to this location on Google Maps
Mt. Laurel is a peaceful suburb of Philadelphia near the Pennsylvania and New Jersey borders. Our primary offices are in Pennsylvania, but we have several offices in New Jersey and one other neighboring state. There are several historical landmarks of significance in the town of 40,000 people, all of which you can visit if you need to come to Mt. Laurel for an appointment from far away and stay for a day or two.
Points of Interest for Local and Out-of-State Patients
General Clinton's headquarters and Evesham Friends Meeting House (the first Quaker meeting house in the area) are points of historical interest. The town itself is named for a grove of laurel trees that sit on top of the nearest hill.
The restaurants here feature the famed Philly cheesesteak sandwiches cooked to order, and quick ventures into South Philly allow you to take in even more tourist attractions, should you need to stay a couple of days to get tests and treatment.
Directions From Philadelphia International Airport
Philadelphia International Airport
8000 Essington Ave, Philadelphia, PA 19153
Get on I-95 N from Garage Access Rd – 5 min (2.8 mi)
Follow I-95 N, I-76, and I-295 N to NJ-38 E in Mount Laurel Township. Take exit 40 A from I-295 N – 24 min (23.4 mi)
Follow NJ-38 E to your destination – 4 min (2.1 mi)
Directions From Evesham Friends Meeting House
Mount Laurel Friends Meetinghouse
436 Mt Laurel Rd, Mt Laurel Township, NJ 08054
Head northwest on Mt Laurel Rd toward Forrest Ct – 1.1 mi
Turn right onto Union Mill Rd – 2.5 mi
Turn left onto Ark Rd – 0.2 mi
Turn left – 377 ft
Turn left and your destination will be on the left – 131 ft
Directions From Geno's Steaks in South Philly
Geno's Steaks
1219 S 9th St, Philadelphia, PA 19147
Take I-676 – 10 min (1.7 mi)
Continue on I-676. Take US-30 E to NJ-38 E/Kaighns Avenue Pennsauken Township – 6 min (4.4 mi)
Follow NJ-38 E to your destination in Mount Laurel Township – 19 min (11.3 mi)
Directions From Adventure Aquarium
Adventure Aquarium
1 Riverside Dr, Camden, NJ 08103
Get on US-30 E from Cooper St – 6 min (1.2 mi)
Take NJ-38 E to Ark Rd in Mount Laurel Township – 21 min (13.4 mi)
Continue on Ark Rd to your destination – 54 s (0.1 mi)
ABOUT US
New Jersey's most trusted source for comprehensive ear, nose, and throat (ENT) care.

Penn Medicine Becker ENT and Allergy physicians are leading experts in their fields and utilize cutting-edge technology to ensure optimal results. The group of NJ and PA board-certified physicians and surgeons are well-respected in the academic community. They have authored multiple textbooks, over 100 scientific publications, and are guest editors and scientific reviewers for over 20 ENT journals and publications. Their books are available in numerous languages, which enable doctors around the world to benefit from their extensive knowledge. Becker ENT and Allergy physicians are also associated with the highly-respected Thomas Jefferson University Hospital in Philadelphia, PA.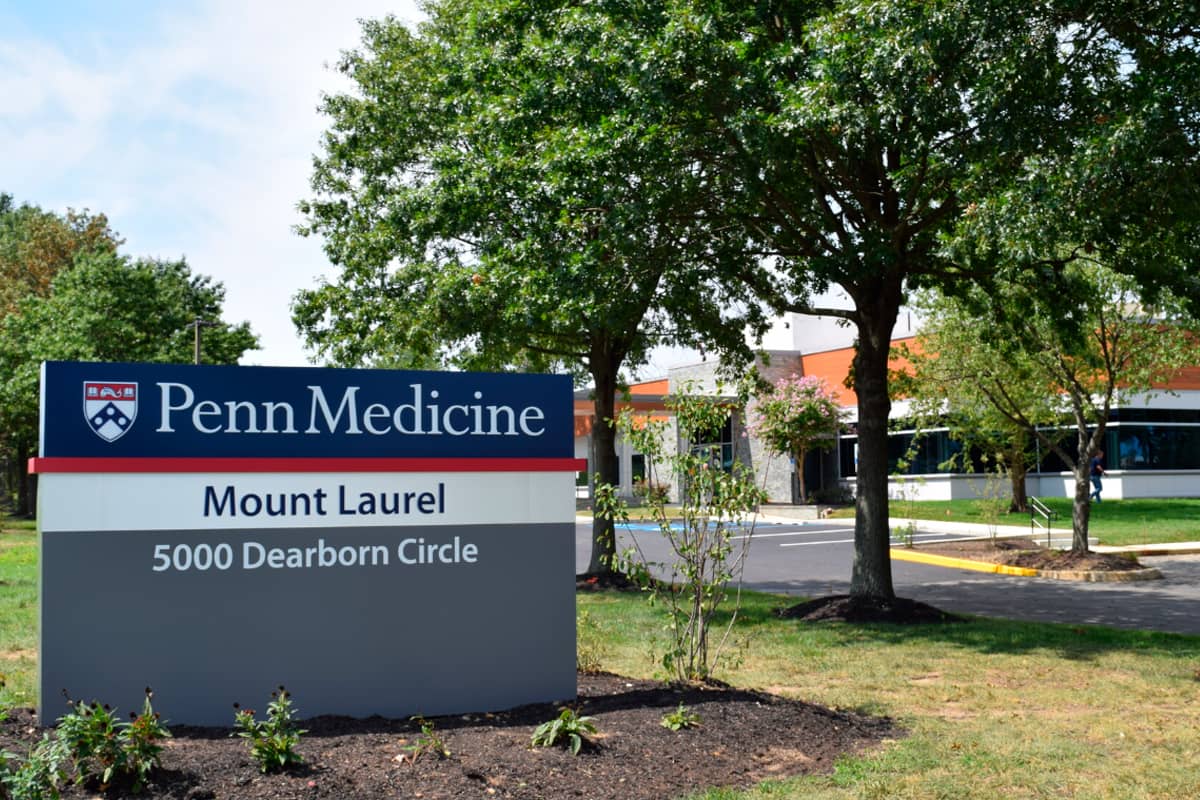 Our Team
Elite medical professionals in Mt. Laurel, NJ.
Penn Medicine Becker ENT and Allergy board-certified otolaryngologists, allergists, and ENT specialists are highly-respected in their fields. Schedule an ENT doctor visit if you are experiencing ear, nose, or throat issues of any kind.
Our allergists can find what your body is responding to and provide a course of treatment to help you breathe better and feel more like yourself again.
If you need honest and compassionate care from doctors and nurse practitioners who listen to you in regards to your head, neck, ears, and throat problems, contact our office today to set up an appointment. We take new patients and almost all forms of insurance to help put your mind at ease.
Specialty-Trained Audiologist Team
The specialty-trained audiologists at Penn Medicine Becker ENT and Allergy in Mt. Laurel, NJ, provide comprehensive care for the diagnosis, treatment, and prevention of hearing loss.
Speech-Language Pathologist Team
Everyone deserves a voice. Penn Medicine Becker ENT and Allergy speech-language pathologists in Mt. Laurel, NJ, evaluate and treat speech and language problems in adults and children.
Nurse Practitioner Team
Penn Medicine Becker ENT and Allergy in Mt. Laurel, NJ, prioritize each patient. Becker ENT board-certified nurse practitioners play an integral role in providing high-quality care and routine diagnostics.
Testimonials
Real People, Real Results
ENT Services and Treatments FAQs
Why Choose Us?
We are leaders in medical technology and offer comprehensive, cutting-edge medicine for all the issues that affect your head, neck, and throat. Our services expand outward to the greater Philadelphia area, and we can see out-of-town patients who are in need of our expertise. 

Our compassionate care puts our patients first and we have a patient-centric view that not many competitors can match. We know how important it is to get the right diagnosis and the right care the first time around, and not have to go through endless procedures and countless doctors to find out what the issue is or how it will be effectively treated.