Is Tonsillitis Contagious?
Tonsillitis is a common health condition that affects many children and can cause concern for parents. Penn Medicine Becker ENT & Allergy offers professionals who specialize in this condition to help young patients overcome the complications that may occur with tonsillitis.
In this article, we aim to provide essential information on tonsillitis, its contagious nature, and how to protect your children from it.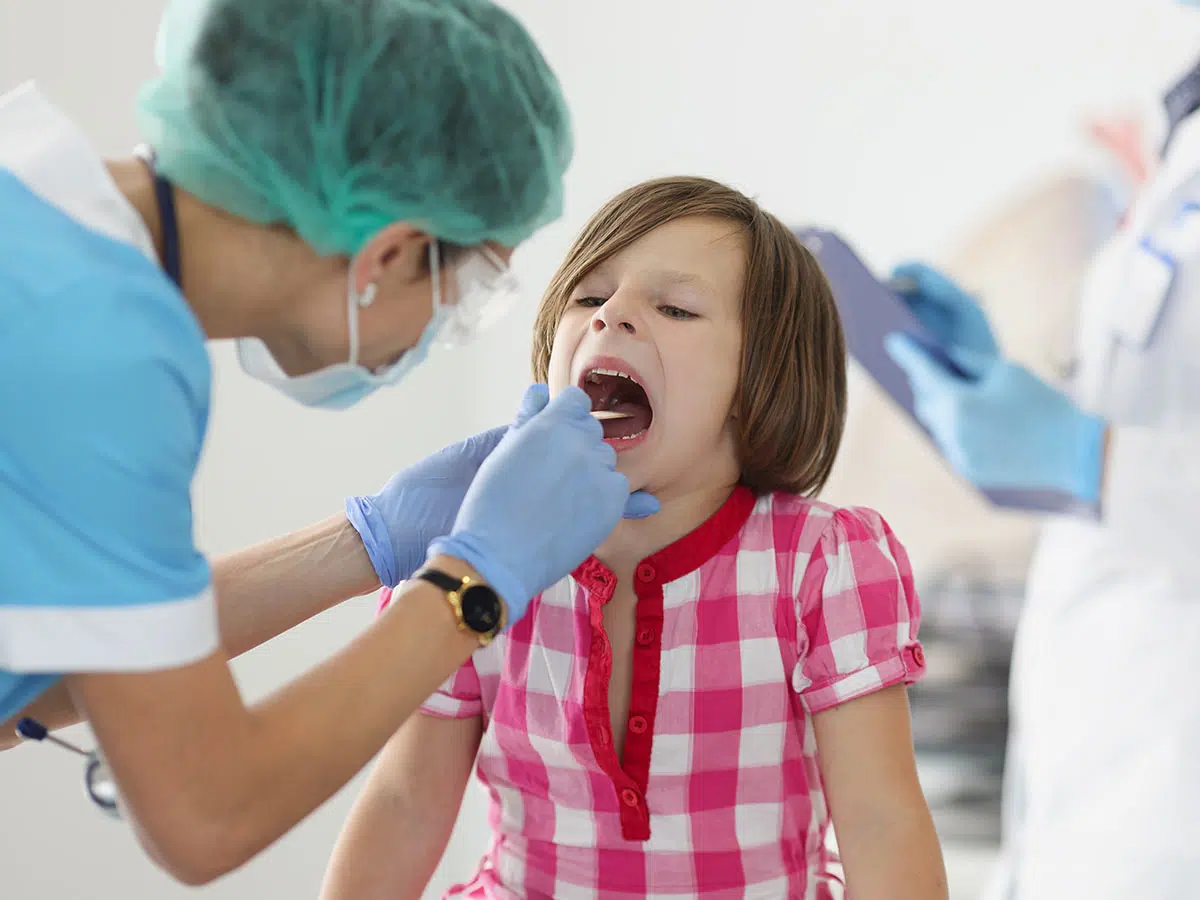 What is Tonsillitis?
Tonsillitis refers to the inflammation of the tonsils, which are two oval-shaped tissue pads located at the back of the throat. The primary function of the tonsils is to act as a defense mechanism against bacteria and viruses entering the body through the mouth and nose. Tonsillitis can be caused by various factors, including viral and bacterial infections. The most common cause of tonsillitis is a viral infection, such as the common cold or flu, while bacterial tonsillitis is usually caused by Streptococcus pyogenes, the same bacteria responsible for strep throat.
How is Tonsillitis Spread?
Tonsillitis is contagious, meaning it can be easily transmitted from one person to another. The infection can spread through direct contact with an infected person's saliva, nasal secretions, or respiratory droplets produced when they cough or sneeze. It can also be transmitted indirectly by touching contaminated surfaces or objects, such as toys, doorknobs, or utensils, and then touching the mouth or nose.
Children are particularly susceptible to tonsillitis due to their developing immune systems and frequent close contact with other children in settings like schools and daycare centers. It is essential for parents to be aware of the contagious nature of tonsillitis and take necessary precautions to prevent its spread.
What are the Symptoms of Tonsillitis?
The symptoms of tonsillitis can vary depending on the cause and severity of the infection. Common symptoms include:
Swollen and red tonsils
White or yellow patches on the tonsils
Difficulty swallowing
Fever
Swollen lymph nodes in the neck
Bad breath
Headache
Symptoms of bacterial tonsillitis may be more severe and can include a high fever, severe sore throat, and pus on the tonsils. It is important to monitor your child's symptoms and consult an ENT specialist if they worsen or do not improve within a few days.
What Causes Tonsillitis?
As mentioned earlier, tonsillitis can be caused by viral or bacterial infections. Viral tonsillitis is more common and can be caused by various viruses, including the common cold, flu, and Epstein-Barr virus (responsible for mononucleosis). Bacterial tonsillitis is most commonly caused by Streptococcus pyogenes, but other bacteria can also be responsible.
In some cases, tonsillitis can be triggered by other factors, such as allergies, irritants like cigarette smoke, or a weakened immune system. Identifying the cause of tonsillitis is crucial for determining the appropriate treatment and preventing complications.
How is Tonsillitis Treated?
The treatment for tonsillitis depends on the cause of the infection, whether it is viral or bacterial. For viral tonsillitis, treatment typically focuses on managing symptoms and providing relief. This may include:
Over-the-counter pain relievers, such as acetaminophen or ibuprofen, to help reduce fever and alleviate pain
Throat lozenges or sprays to soothe a sore throat
Drinking plenty of fluids to stay hydrated
Gargling with warm salt water to help alleviate throat discomfort
Getting plenty of rest to allow the immune system to fight off the infection
If the tonsillitis is caused by a bacterial infection, a healthcare professional may prescribe antibiotics, such as penicillin or amoxicillin. It is essential to complete the full course of antibiotics as prescribed, even if symptoms improve before the medication is finished, to ensure the infection is fully treated and prevent complications.
In severe or recurrent cases of tonsillitis, a healthcare professional may recommend a tonsillectomy, which is the surgical removal of the tonsils. This procedure is typically reserved for cases where tonsillitis is causing significant health issues or impacting the child's quality of life.
Can Tonsillitis be Prevented?
While it may not be possible to completely prevent tonsillitis, there are steps parents can take to reduce the risk of their children developing the infection. These precautions include:
Encouraging good hand hygiene by teaching children to wash their hands regularly with soap and water, particularly before eating and after using the restroom
Reminding children to avoid sharing utensils, cups, or toothbrushes with others
Keeping children away from individuals who are sick or have a sore throat
Teaching children to cover their mouth and nose when coughing or sneezing, preferably using a tissue or the crook of their elbow
Ensuring children receive age-appropriate vaccinations, such as the flu vaccine, to protect against viruses that can cause tonsillitis
When Should I Seek Medical Attention for Tonsillitis?

It is crucial to consult a healthcare professional if your child's tonsillitis symptoms worsen or do not improve within a few days. Additionally, seek medical attention if your child experiences any of the following:
Difficulty breathing or swallowing
Severe pain that does not improve with over-the-counter pain relievers
A high fever (above 102°F or 38.9°C) that persists for more than 48 hours
Signs of dehydration, such as dark urine, sunken eyes, or lethargy
A rash, which could be a sign of a more serious infection like scarlet fever
Prompt medical attention can help ensure your child receives the appropriate treatment and prevent potential complications associated with tonsillitis.
Are There Complications Associated with Tonsillitis?
While most cases of tonsillitis resolve without complications, there are instances where untreated or severe tonsillitis can lead to more serious health issues. Some potential complications associated with tonsillitis include:
Peritonsillar abscess: A collection of pus that forms near the tonsils, causing severe pain and difficulty swallowing. This condition requires prompt medical attention and treatment, which may include antibiotics or drainage of the abscess.
Middle ear infection (otitis media): In some cases, the infection causing tonsillitis can spread to the middle ear, leading to pain, fever, and hearing difficulties.
Rheumatic fever: Although rare, untreated strep throat (a bacterial cause of tonsillitis) can lead to rheumatic fever, a condition that affects the heart, joints, and nervous system.
Obstructive sleep apnea: Chronic or recurrent tonsillitis can cause the tonsils to become enlarged, obstructing the airway during sleep and leading to sleep apnea, a condition characterized by pauses in breathing during sleep.
It is essential to seek medical attention for tonsillitis to minimize the risk of these complications and ensure appropriate treatment.
How Long Does it Take to Recover from Tonsillitis?
The recovery time for tonsillitis depends on the severity of the infection and the individual's overall health. In most cases, symptoms of viral tonsillitis begin to improve within a few days and resolve completely within one to two weeks. For bacterial tonsillitis treated with antibiotics, symptoms usually start to improve within 24 to 48 hours of starting the medication.
It is essential to follow the healthcare professional's advice and complete the full course of antibiotics, even if symptoms improve before the medication is finished, to ensure the infection is fully treated and prevent the risk of complications.
What is the Prognosis for People with Tonsillitis?
The prognosis for people with tonsillitis is generally favorable, with most individuals experiencing a full recovery without long-term complications. However, some individuals may develop recurrent tonsillitis, which can significantly impact their quality of life and may require additional medical interventions, such as a tonsillectomy.
Maintaining good hygiene practices, staying up-to-date on vaccinations, and seeking prompt medical attention for tonsillitis symptoms can help improve the prognosis and minimize the risk of complications.