Acid reflux, also known as gastroesophageal reflux disease (GERD), is a condition where stomach acid flows back into the esophagus. While occasional acid reflux is considered normal, persistent symptoms may indicate a more serious issue. This article will discuss what acid reflux is, its common symptoms, and when to be concerned about your symptoms. Additionally, we will explore red flags that may signal a more severe problem, and how to treat and manage acid reflux symptoms.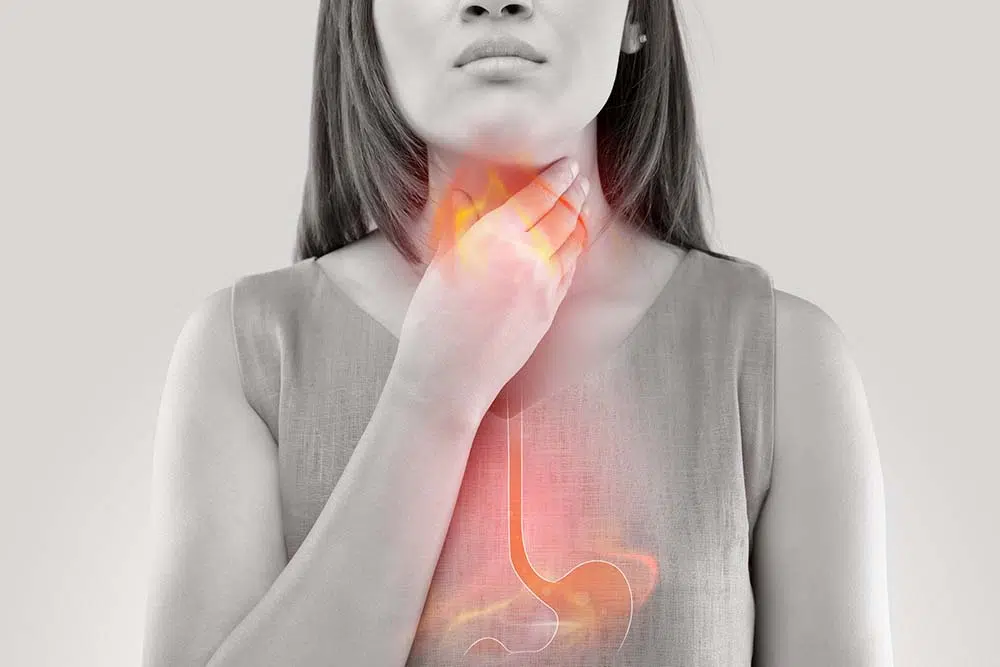 What is Acid Reflux?
Acid reflux occurs when stomach acid flows back into the esophagus, the tube that connects the mouth to the stomach. This backward flow, known as reflux, can cause irritation and inflammation in the lining of the esophagus. A ring of muscle at the entrance of the stomach known as the lower esophageal sphincter (LES), usually helps to prevent stomach acid from flowing back into the esophagus. However, in cases of acid reflux, the LES may be weakened or dysfunctional, allowing acid to escape the stomach and enter the esophagus.
Common Symptoms of Acid Reflux
The most common symptom of acid reflux is heartburn, a burning sensation in the chest that usually occurs after eating and may worsen when lying down. Other typical symptoms include:
Regurgitation of sour liquid or food
Chest pain
Trouble swallowing
Chronic cough
Hoarseness or sore throat
A sensation of a lump in the throat
Bitter or sour taste in the mouth
Not everyone with acid reflux will experience all of these symptoms, and some individuals may have atypical symptoms or no symptoms at all.
When to Worry About Acid Reflux Symptoms
While occasional acid reflux is normal and typically not a cause for concern, persistent or worsening symptoms may indicate a more serious issue. You should consult a healthcare professional if you experience any of the following:
Symptoms that persist or worsen despite over-the-counter treatments or lifestyle modifications
GERD symptoms occurring more than twice a week
Difficulty swallowing or the sensation of food getting stuck in your throat
Unintentional weight loss
Severe chest pain, especially if it radiates to the arm, neck, or jaw
Symptoms that interfere with your daily activities or sleep
It is essential to seek medical attention if you are unsure about the severity of your symptoms or if you suspect that they may be indicative of a more serious issue.
Red Flags That Could Indicate a More Serious Problem
While acid reflux is a common condition, certain red flags may signal a more severe problem that requires immediate medical attention. These include:
Severe chest pain or pressure, especially if accompanied by shortness of breath, dizziness, or cold sweats, which could indicate a heart attack
Vomiting blood or passing black, tarry stools, which may suggest gastrointestinal bleeding
Sudden, severe abdominal pain, which could be a sign of a perforated ulcer or another serious gastrointestinal issue
Persistent vomiting or an inability to keep down liquids, which may lead to dehydration and require medical intervention
Choking or difficulty breathing, which could indicate a blockage in the esophagus or an allergic reaction
If you experience any of these red flags, it is crucial to seek emergency medical care immediately. Remember, it is always better to be cautious and mindful of your health.
How to Treat and Manage Acid Reflux Symptoms
Treatment and management of acid reflux symptoms often involve a combination of lifestyle modifications, over-the-counter medications, and in some cases, prescription medications or surgical intervention. Here are some strategies to help manage acid reflux symptoms:
Dietary modifications: Making changes to your diet can significantly improve GERD symptoms. Eating smaller, more frequent meals instead of large ones can help minimize stomach pressure and acid production. Additionally, avoiding common foods that increase acid production, such as spicy or fatty foods, chocolate, caffeine, and alcohol, can help alleviate symptoms. Consuming more alkaline foods, such as leafy green vegetables and whole grains, can also be beneficial.
Other lifestyle changes: Staying upright for at least three hours after eating can reduce the likelihood of acid reflux by allowing gravity to help keep stomach contents down. A bed that is raised 6″ to 8″ at the head (as opposed to using pillows) is ideal for preventing nighttime reflux. Avoiding clothing that is tight at the waist can help reduce pressure on the stomach, lowering the risk of acid reflux.
Over-the-counter medications: Antacids, H2 blockers, and proton pump inhibitors (PPIs) are commonly used to treat acid reflux. Antacids work by neutralizing stomach acid, providing quick relief from symptoms. H2 blockers and PPIs, on the other hand, reduce the production of stomach acid and are typically used for longer-term management. It is essential to follow the recommended dosages and consult a healthcare professional if symptoms persist or worsen.
Prescription medications: If over-the-counter treatments are not effective, your healthcare provider may prescribe a higher-dose PPI or other medications, such as prokinetic agents or baclofen. These drugs can improve gastric emptying and tighten the esophageal sphincter, reducing the risk of acid reflux.
Surgical intervention: In severe cases of acid reflux or when other treatments have failed, surgery may be recommended. Procedures such as fundoplication, which involves wrapping the top of the stomach around the lower esophagus, or LINX device implantation, where a ring of magnetic beads is placed around the lower esophageal sphincter, can help strengthen the sphincter and prevent acid reflux.
Weight management: Maintaining a healthy weight can help reduce pressure on the stomach and lower the risk of acid reflux. Engaging in regular physical activity, such as walking or swimming, and following a balanced diet rich in fruits, vegetables, lean proteins, and whole grains can help achieve and maintain a healthy weight. It is essential to consult a healthcare professional or nutritionist for personalized weight management advice.
The ENT specialists at Penn Medicine Becker ENT & Allergy use fiber-optic technology to evaluate your nose and sinuses to pinpoint the problem causing your symptoms. An accurate diagnosis is essential before deciding on an effective treatment. Schedule your consultation today!